I met Amanda when I joined Dragon CrossFit. We bonded over heavy squats on Mondays and a commitment to the Clean Living Challenge at the start of the year.
What I love most about Amanda is the way she often challenges all that I'm learning and, as a doctor at University Hospital of Wales will always (quite rightfully) defend the NHS.
You'd be amazed by the heated discussions we've had in between work outs – herd immunity, why scrubbing your teeth isn't necessarily the answer to better dental health, auto immune diseases and their genetic consequences, the role of acupuncture in critical care. It goes on.
As the daughter of a much loved and respected GP and someone who is studying to be a complementary health practitioner, I plan to do my absolute best to straddle both camps – both the conventional and more complementary fields. That is, to work with, not against those that do genuinely care about the nutrition of their patients and the role it can have in either getting them back on their feet or leaving them in tip top condition.
I'm grateful for those like Amanda that see things a bit differently. Those that will digest and work with the findings of the latest research, those keen to learn more and share details of their very own clinical experiences.
But the best bit about Amanda? It absolutely has to be her love of good food.
When the doctor came to dinner, I rustled up a clean eating feast. A real twist on the classics that are fish, chips & mushy peas and gooey chocolatey mousse using inspiration from two of my kitchen idols – who actually recently found themselves in the same spot together…
Crunchy cod, sweet potato spears and smashed pesto peas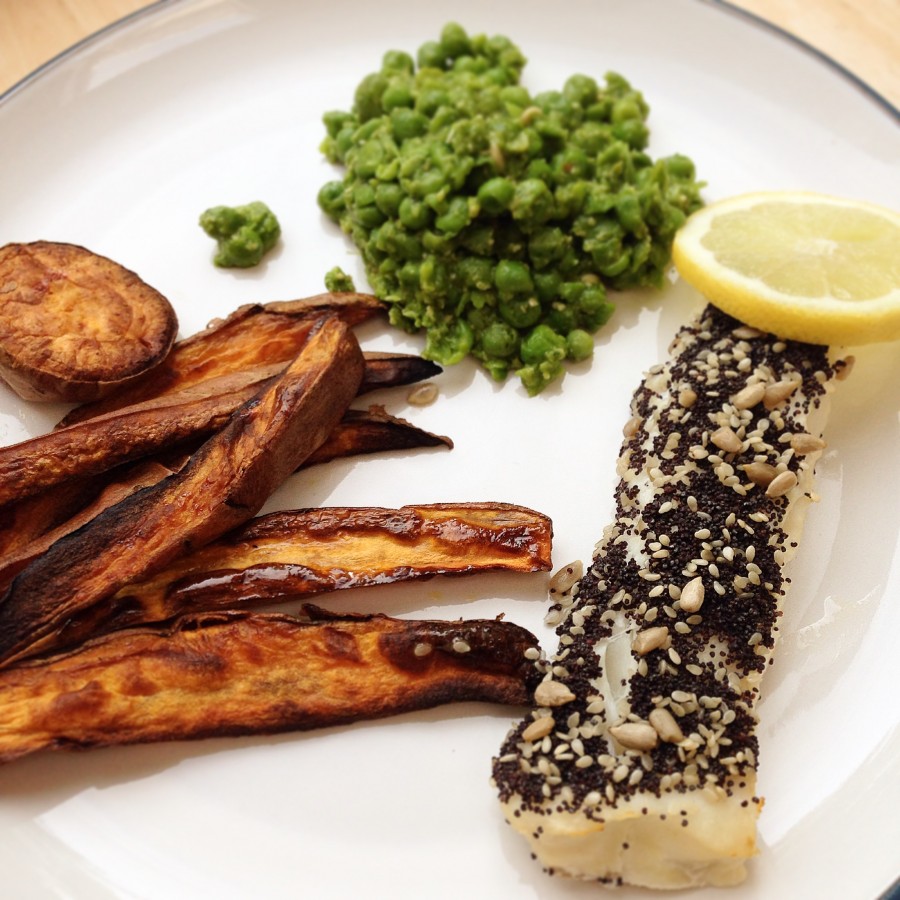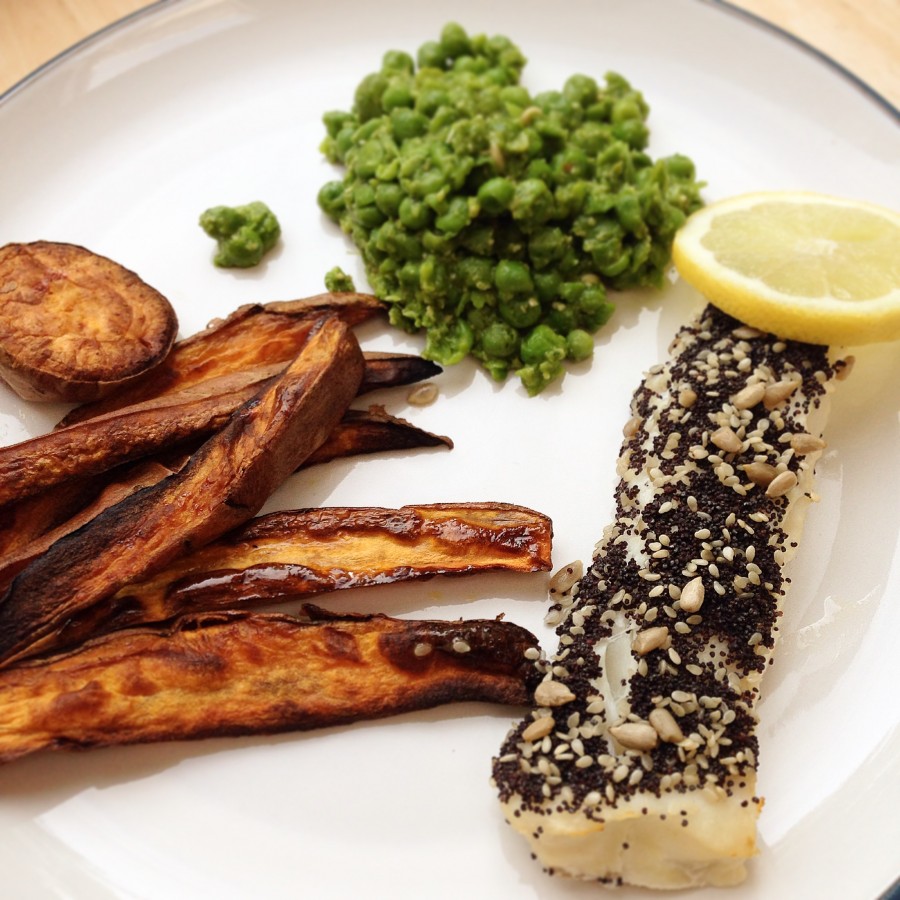 Serves 2
Ingredients
2 loin fillets of sustainably caught cod (approx. 70g per fillet)
Teaspoon butter
1 whole lemon
1 large sweet potato
1.5 cups of frozen peas
Tablespoon green pesto (I use Seggiano raw basil pesto)
Teaspoon coconut oil
Pinch of sea salt
Dessertspoon each of sesame seeds, poppy seeds & sunflower seeds
Method
Pre heat oven to 180oC
For ease of cutting, warm the sweet potato in the microwave for 5 minutes
Slice into slim spears
Grease a baking tray with the teaspoon of coconut oil and place sweet potato spears onto the tray. Season with a pinch of sea salt and cook for 20 minutes.
Line another baking sheet with aluminium foil, place cod fillets onto foil. Brush fillets with melted butter and squeeze over the juice of half the lemon. In a separate bowl mix all the seeds together. Sprinkle onto the basted fillets of cod. Place into the oven for 12 minutes along with the sweet potato spears.
Whilst the cod is in the oven, cook the frozen peas in a large pan of boiling water. Drain and mash the peas with the green pesto.
Dress the fillets onto the plate with the sweet potato spears and serve with a spoonful of the smashed peas and a slice of lemon.
Chocolate mousse 'surprise' with pistachio & raspberry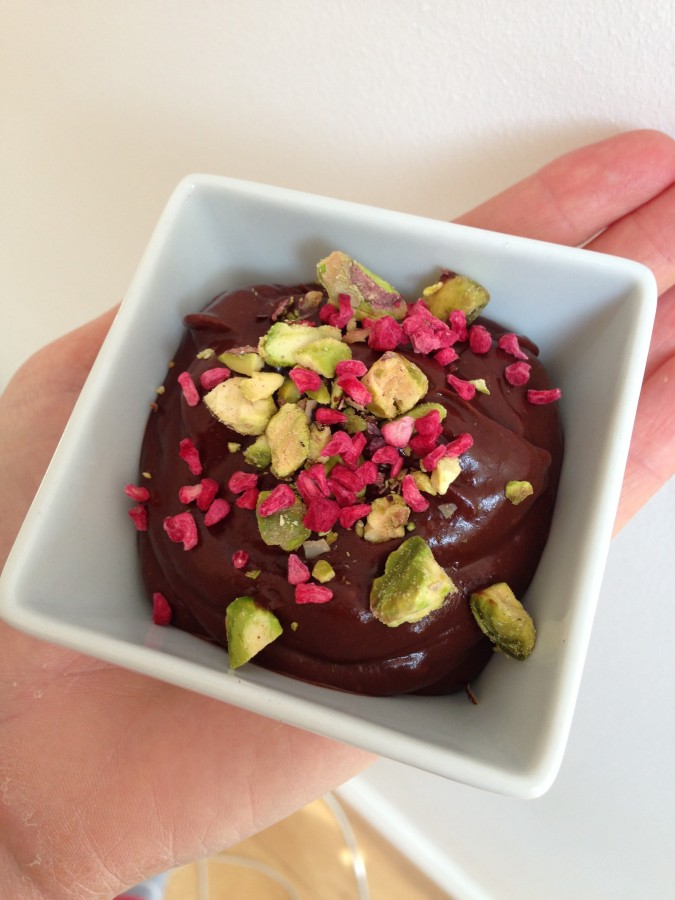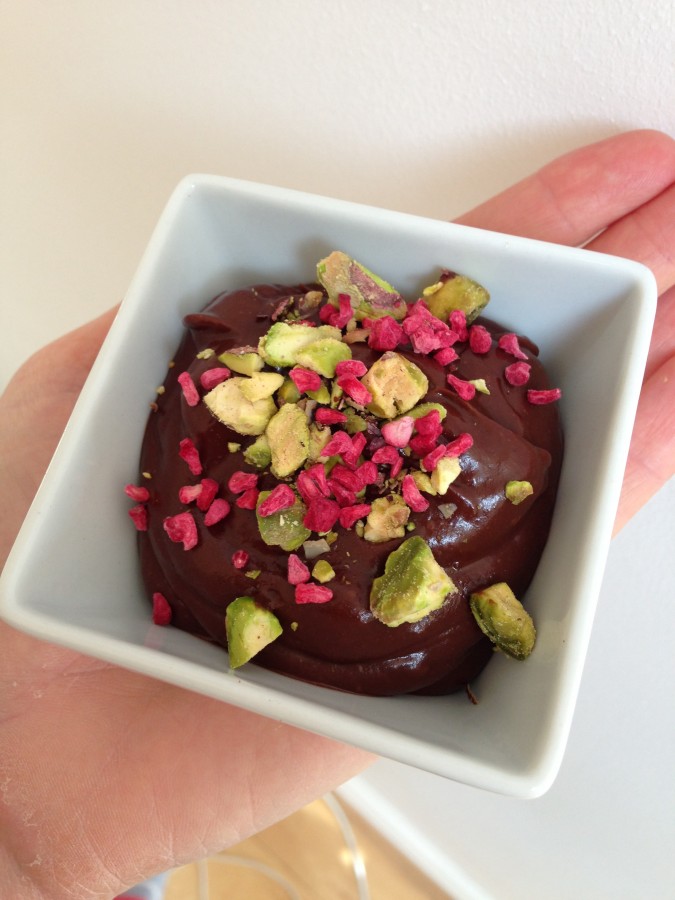 Serves 2-4 (depending on how big your serving dishes are / how much of a chocaholic you are…)
Ingredients
2 small very ripe avocados (it's the ripeness that makes this recipe)
Half a cup of melted coconut oil
4 tablespoons raw cocoa powder (I love Chococru)
A glug of organic maple syrup – quantity will depend on how sweet you like your mousse. Personally I think it needs hardly any
Dessertspoon each of freeze dried raspberries and crushed pistachio nuts to decorate
Method
Tip all ingredients into a food processor and blitz. You want a relatively thick consistency but to have blitzed sufficiently so as to hide the green of the 'surprise' avocado ingredient. Separate out into ramekins, leave to set a little at room temperate for 3 minutes. Decroate with the freeze dried raspberries and crushed pistachios.
This post is an entry into a Uniform Foodies competition to mark the launch of its forthcoming app in conjunction with two Michelin star chef Michael Caines. Uniform Foodies provided me with a voucher to cover the cost of the ingredients for this meal.