We were properly baptised into the church of parenting by Bronchiolitis. It was our wedding anniversary. December 10. Our first night out since the arrival of our first born. He was ill. I was telling him we should stay at home. He was determined. We left, Britannia Encyclopaedia-esque tomes of instructions for the babysitter trailing behind us. Our once favourite cheap and cheerful local Italian was full of Christmas party cheer. Plenty of Peroni, party hats and us; lost in a little cold corner. We warmed up after a while. But I wasn't far down the carafe of vino blanco when I realised he hadn't touched his food, I'd been speaking in soliloquies that would rival Macbeth and soon tears started to roll down my cheeks. It was all rather textbook car crash first night out after having a baby. We're destined for lead roles in the next series of Catastrophe. We cut our losses, hailed a taxi, gave worried observers a look that said "we're not getting divorced; yet" and headed home. In bed and asleep by 10pm.
He still managed a smile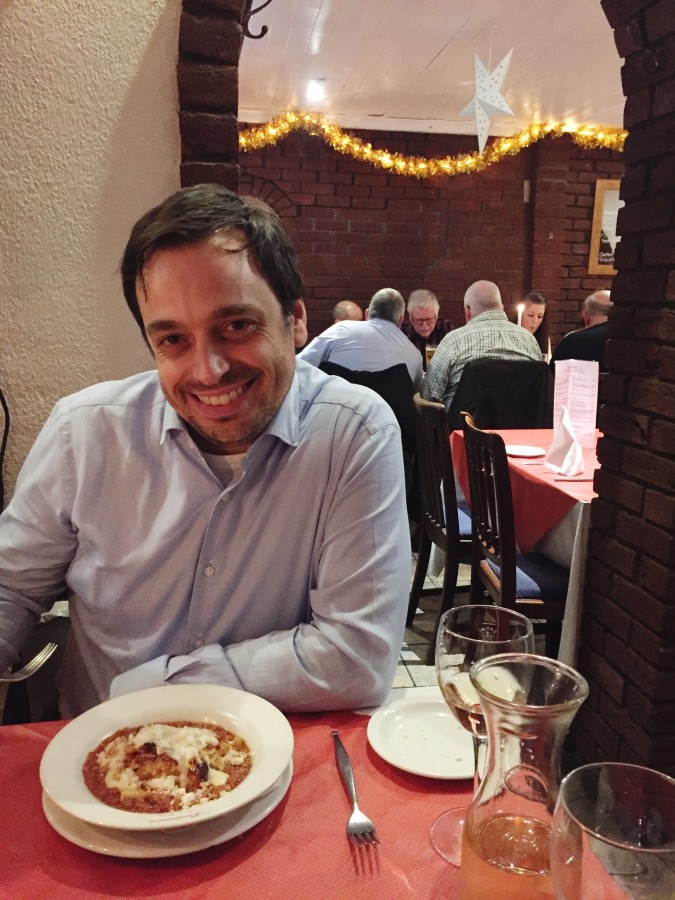 12.50am it started. A cough like a bolt from the blue. Cat-like reflexes to scoop our dear baby out of the cot. Turning on a lamp. Blue lips. Seemingly choking. Projectile vomit. A call to out of hours. Should they send an ambulance? Dear God, I didn't know! We headed to A&E. Of course it was all bright eyes and wide smiles when we got there but at every stage of the process we were made to feel we'd absolutely done the right thing and time wasters we weren't. 10 painful days the Bronchiolitis lasted. This series of shocking coughing fits, near choking, projectile vomit, quarantine and long nights. It was wearing. But then, Christmas. It's so true how quickly you forget. And how many more trips you make to A&E once you've made that first visit!
Christmas, selfies round the tree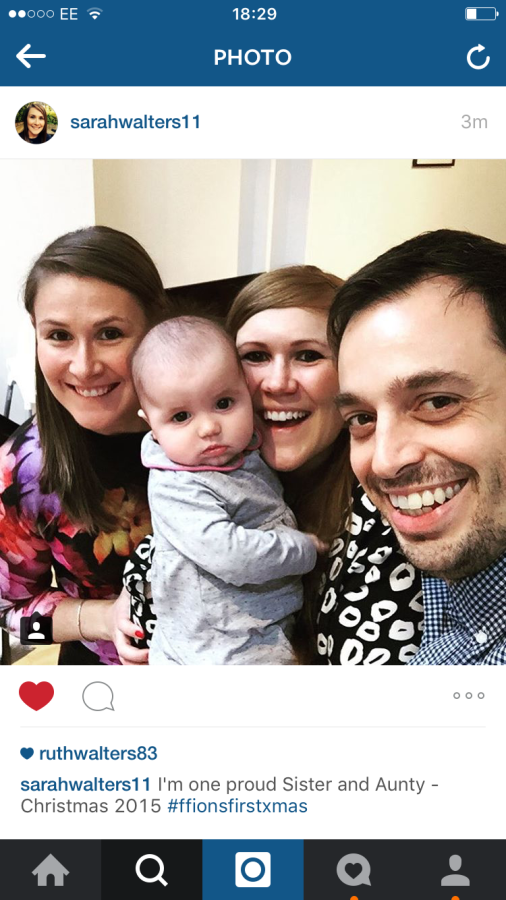 Christmas was a funny one. A beautiful yet slightly tragic affair. Sis, Andy, Ffion and I. Never so together, yet all on our own. Life can be rather kind sometimes though, can't it? And quite often when you're totally dreading something, it all turns out rather wonderfully. We juggled the baby and the turkey between us. We drank the wine I'd missed out on last year. We took selfies round the Christmas tree. We didn't dwell on what could have been. We started new traditions, we went to bed with happy and proud hearts. A day that has no doubt shaped so many Christmases to come.
That first day back to work in January always used to hurt so much. Oh but not this year. I felt like the luckiest, most smug woman alive. There was no rush hour. There was a warm baby on my lap for the duration of BBC Breakfast before we set off for her first dip in the pool. It was all literally going so swimmingly until the car crash that is the changing rooms. I'm thinking of running an alternative NCT. How to survive your first (and every subsequent trip thereafter!) swimming pool changing room experience. Other agenda items include "living a life one handed" and "fail safe distraction tactics".
Happy New Year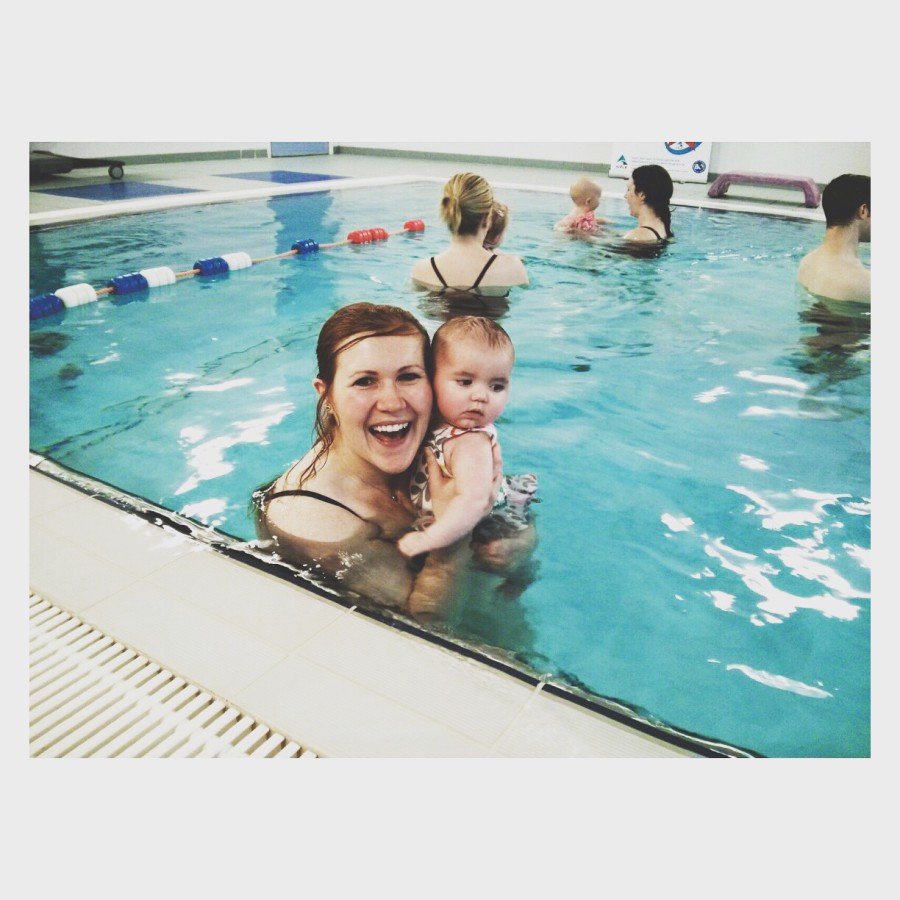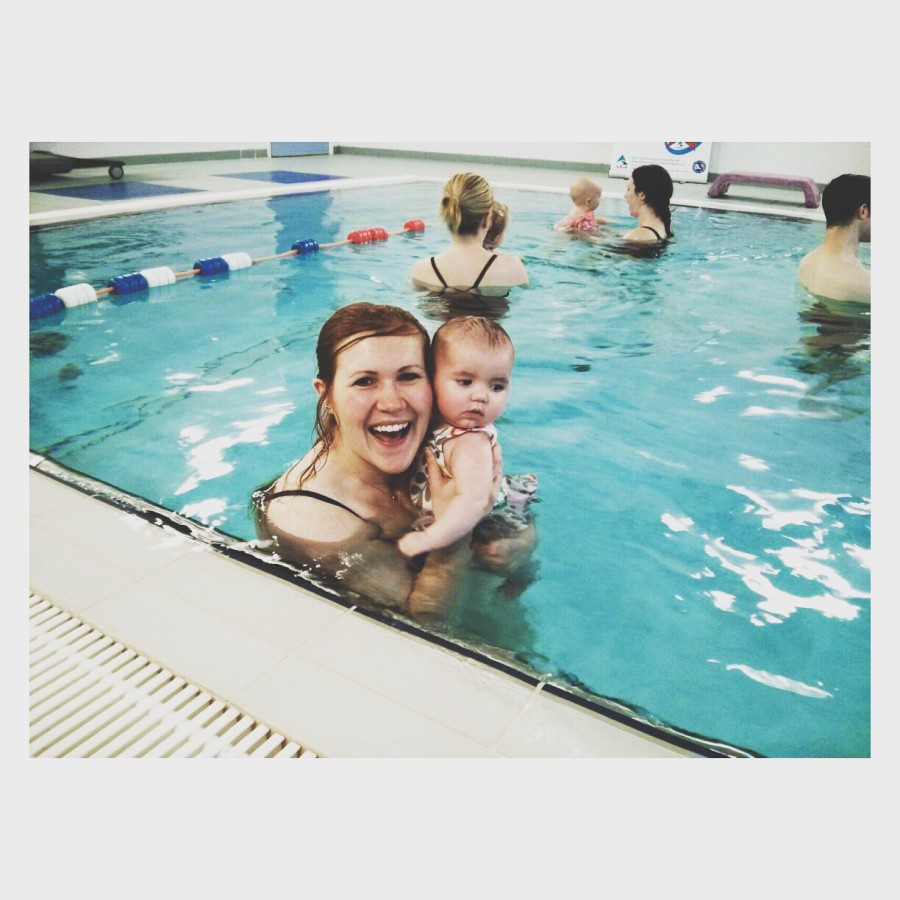 Swimming lessons aside, January was a month of such emotional conflict and guilt. Ff started nursery and I returned to college. Of course on that first day when I picked her up she was an unrecognisable, inconsolable screeching beetroot. Over tired, over hungry and likely not a clue what on earth was going on when all the while I'd sat at home getting no study done at all, instead worrying about her. But it did of course get better for both of us, just the theory v practice of Motherhood being two so very different things. Like returning to college had always been the plan, I was so comfortable and happy with our choice of nursery yet when it's actually happening? Horrendous. Likewise weekends where I'm furiously trying to catch up on study, the sun is shining and they're heading for a walk at the beach. And where am I? Sat at the kitchen table feeling like the most neglectful, selfish mother in the world.
It's pretty remarkable how with every day, week we continue to get to know one another that bit better. I remember in the newborn days I'd be terrified of her waking in the middle of the night thinking "how on earth will we ever get her back to sleep?!" Yet now we're pretty resigned to the fact a wake up (or three!) is inevitable. A bit of milk, plenty of cwtching and sometimes a sneak into our bed will see her right. She gives me these looks. Little communications. Middle of the night. Half way through the morning. Her eyes tell me everything. And she already knows just how she wants / expects it; don't you dare say "like her Mother".
Her eyes tell me everything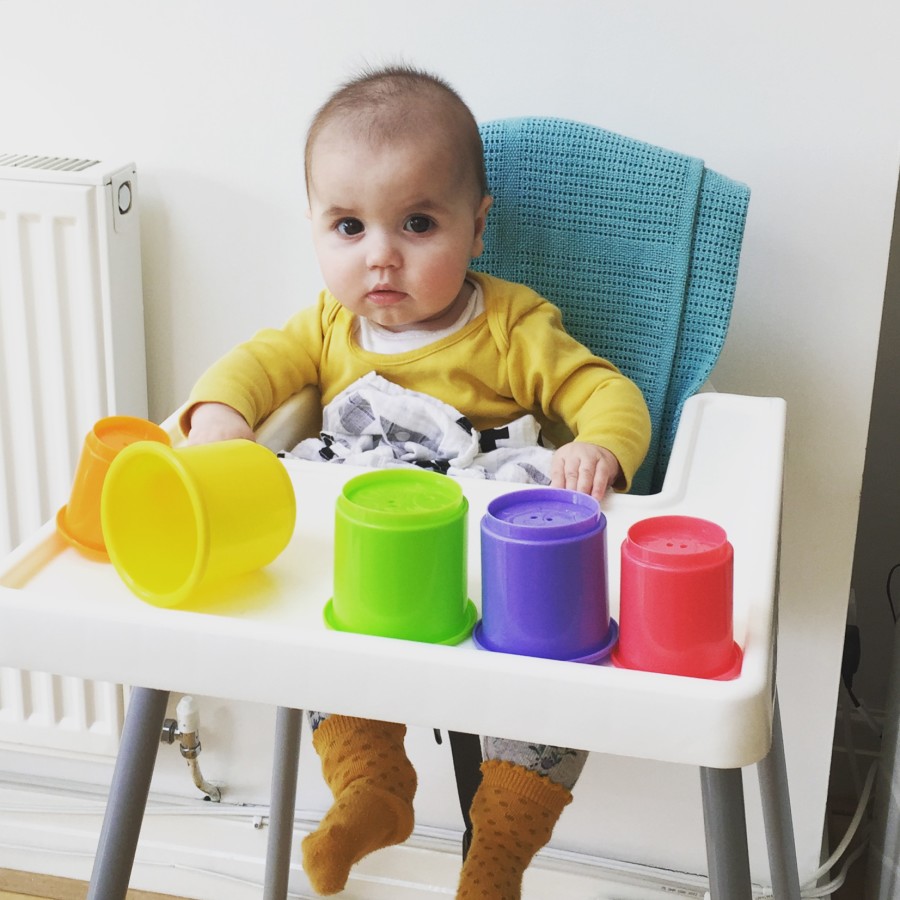 It has got easier. So much easier. Until we've hit a bump in the road – or the b*stard Bronchiolitis returned. February was short in days yet a long and trying month for all of us. There was some very vague, minute comfort in what to expect from the Bronchiolitis second time around but when it's a more severe bout, you're sleeping in two hour shifts to keep your baby upright and the coughing fits that end in nasty vomiting have gone on for over three weeks it's like someone relentlessly taking a cheese grater to your soul. I'm almost certain I left my own immune system in the delivery suite back in September too. There was a day, an afternoon, 17 seconds where I contemplated chucking myself down the stairs to make it stop. Someone else would have to step in if my arm and leg were in plaster. I didn't end up in plaster but I did send an SOS message to her Daddy who came home at once. As did a sister who cooked all our meals for the rest of that week. Friends who came on walks. My husband's family. Rhyme Time sessions at the local library. It's just a shame it took so long for me to find it within myself to raise the white flag. I'd do well to remind myself I can do anything, but not everything.
But sometimes it is just everything isn't it? Once you've got a better handle on things, looking after a baby is relatively straightforward. Until they're sick, college deadlines mount up, you're begging for extensions, spending SMP on Doctor's letters to secure those extensions, clearing your family home of 30+ years of the most treasured sentimental possessions. That doesn't happen in the movies either. Baby in the carrier, storage boxes on the floor, frantically piling photo albums and your own first lock of hair and pair of shoes into them on the one day you have to complete the task. So beautifully bittersweet as the sun beams in through the window and your daughter rolls around, smiling, kicking on the bed you watched your own Mother die in. Her first time in that room. Almost certainly my last.
Packing up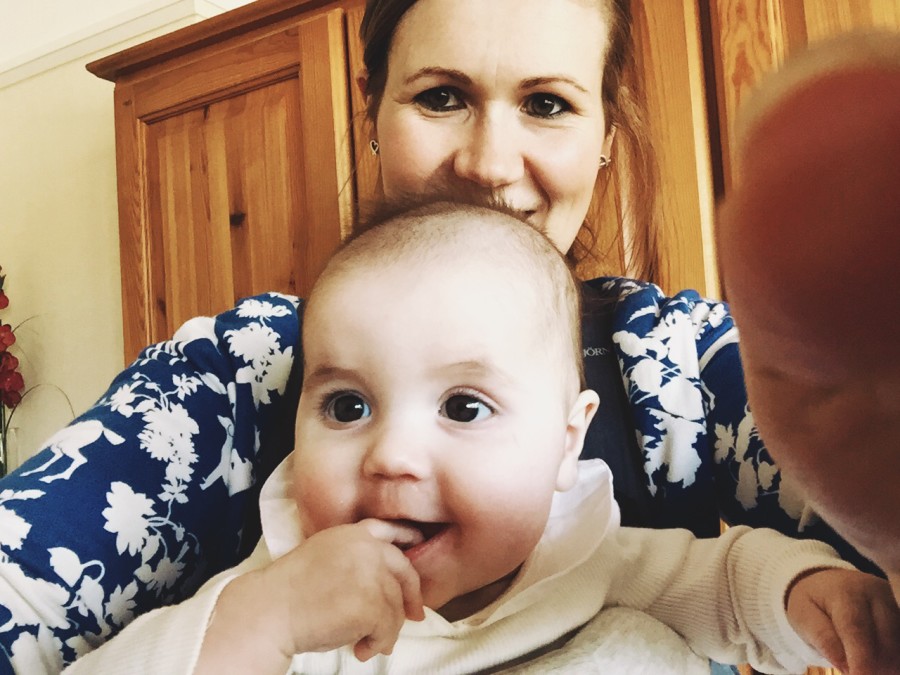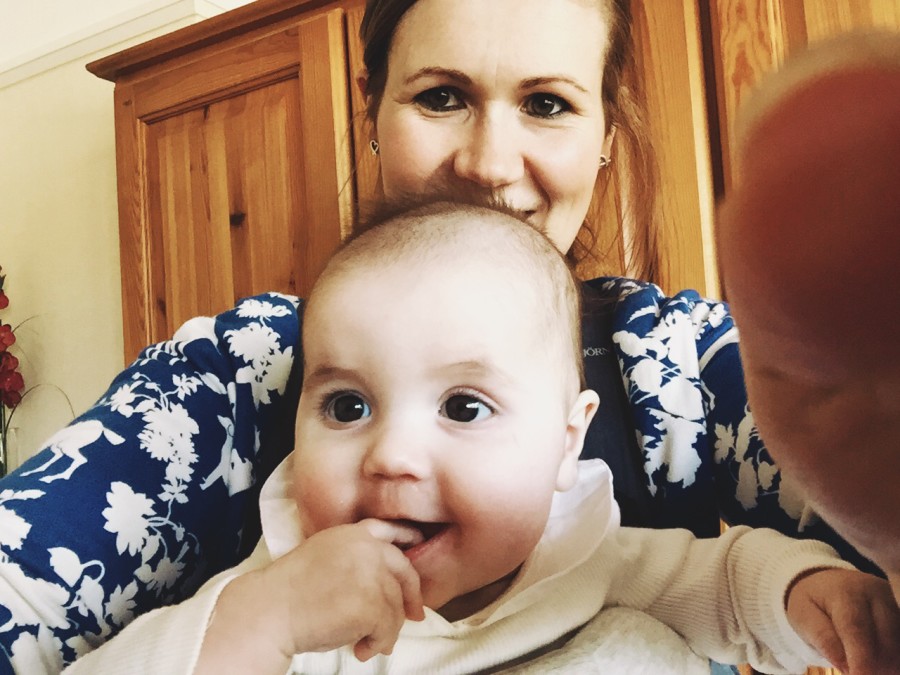 As if by some act of God I passed my first midterm in amidst all this with 71% and we've laughed a lot in between. Her chuckle gets louder and her smile so much wider, usually as Daddy walks in through the door. For every tired awful argument we've always made up and not once have we given up. Unlike my pelvic floor. But it's ok. I'm 'in the system' and attending workshops with lovely ladies 30 years my senior. Again, you've got to laugh. I was late for the first session. Why? Looking for the toilet.
Goodness knows what's ahead for my daughter's bowel movements now weaning has commenced. A strong start with a big thumbs up for broccoli and avocado. The Let Her Eat Clean poster child. Until she gets a sniff of a chicken dipper. Pray for me.
This half way point into the first year of our first born's life feels like such a big deal. Goodness knows what I expect to magically happen when we reach that 12 month mark but for now it feels like something to work towards. So much about Motherhood is about acceptance and its sometimes relentless 24/7 demands. You're always "on". No matter how much time you take out, you're still a Mother and as a relatively new one you can't think about much else. Except for how the heck your own Mother did it. I think about that all the time.
I could go on. And on. And on. And if you've stuck with this post until now, it's so very kind of you. These epic instalments are only ever really designed as something to look back on, something to ensure… I'm tempted to say… "never again" but I know that's just not true. I have been tested, challenged, aged about 20 years in a way I never, ever thought possible. But I adore her. Motherhood you continue to surprise and astonish me.