Early March I found myself in bed with a heavy cold. It took yonks to shift. I finally made it back to CrossFit in the middle of the month. I arrived, fired up, psyched. For all those folks that are used to training hard and often you'll know how good it feels to finally get back to it.
Warming up, I bent over and BANG. It was as if someone had punched me in the kidneys. Agony. A surreal sensation. I was shaking. But not from the pain, through the sheer fear of what this meant for the marathon I was all signed up to run on April 21st.
I hobbled home and rested, iced and stretched as much as I could for the afternoon. That evening the floodgates opened. I was simply distraught at what this meant. For folks that don't train or run races this will mean nothing. Heck, you have every right to think I'm a bit of a freak.
But since my Mum died exercise has been the most amazing coping mechanism. It's released all kinds of happy chemicals to my brain and ensured I'm surrounded by awesome, supportive people throughout. Without it, I knew I was going to struggle.
The recovery period taught me a lot. Not least of all what a fundamental part of my life exercise is. Thanks to the guidance of my trainer, StreTch and some superb treatment from Gregg at C3 Chiropractic Clinics and Jo at Onyx London I'm up and running again with two weeks to go.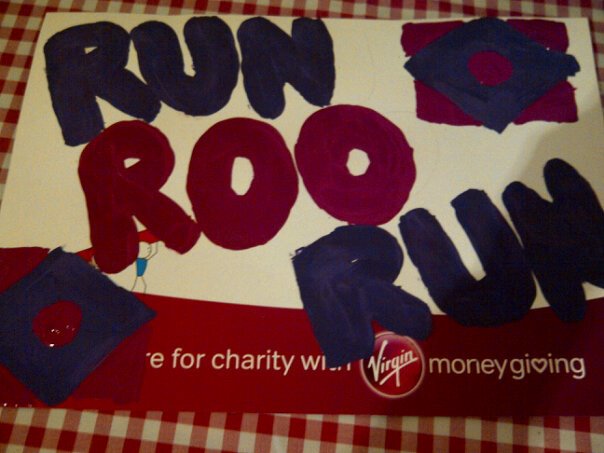 The conditions for running have been superb this weekend. The sun was shining, Florence was on the iPod it felt immense. It also gave me lots of time to think about what this period of injury has taught me, so here goes:
Your trainer always, always knows best – StreTch and I have worked together for a good few years now and this man has carried me through many a training-induced meltdown. I was assured the rest would be good for me, I'd still be running the marathon and there was nothing to worry about. Naturally I didn't believe him and spent a lot of wasted time fretting. The result? On my first weekend back after 31 days of NOT training… My 800m times have improved massively and my 200m times are just several seconds off. Once again, StreTch wins
Motion is lotion – I made a concerted effort to keep moving. Walking to work and back, foam rolling, stretching, doing everything I could to stay as mobile as possible
Ice is your best friend – Opinion is divided on when ice stops being effective but I didn't take a single pain killer, simply iced the affected area throughout and it eased the agony every time. Painkillers mask not treat symptoms (and I'm also not a fan of unnecessarily medicating)
Alternative treatments are seriously worth it – the support, advice and treatment I received from my first visit to a chiropractor was second to none. I'm now a regular patient of Gregg's – and I'd always been a client of Jo's
Comfort food doesn't solve anything – fish & chips on a Friday night when you've not been training or earned such an indulgence are going to make you feel rubbish. End of
Keep your chin up as much as possible – whilst I definitely struggled to do this, I needn't have. My interval times in my first sessions back speak for themselves
There we have it. Back on track and ready to tear the 26.2 a new one. Fi, we're still very much doing this for you: https://uk.virginmoneygiving.com/team/runningforfi