Earlier this week I had the absolute pleasure of working on a client food styling project with two insanely talented people – Lucy Heath from Capture by Lucy and Pete Cookson from Paleo Chef.
The daughter of a Dad that went to catering college, I've inherited some glorious genes that mean I like to make every plateful of wonderful food look rather pretty. Since I started this blog I've found myself taking extra special care over making real, whole foods look as incredible as they taste. But my skill set doesn't extend much beyond knowing which Instagram filter to choose and my oh my did I learn a lot in Pete and Lucy's company this week.
Here are my top five takeaways on successful food styling & photography and things I'll definitely aim to put into practice:
1. Be patient
Getting brilliant shots takes time. The desire to devour the dinner you've prepared for yourself after a hard day at work is likely going to win out over the need to tinker with a bit more garnish here, angle the plate a bit more there and so on. So if you've created a truly sumptuous supper why not sit down, enjoy it and plan to recreate it again later in the week or at the weekend for the benefit of a photo? If you're on a shoot where you're working with a professional team bear with them. They're not taking the photo every which way for their own benefit; they care about providing you, their client, with as many shots for your library as possible. Likewise, if Chef's not happy with how something looks, it won't make the plate. And he'll do it again. And again, until he is happy.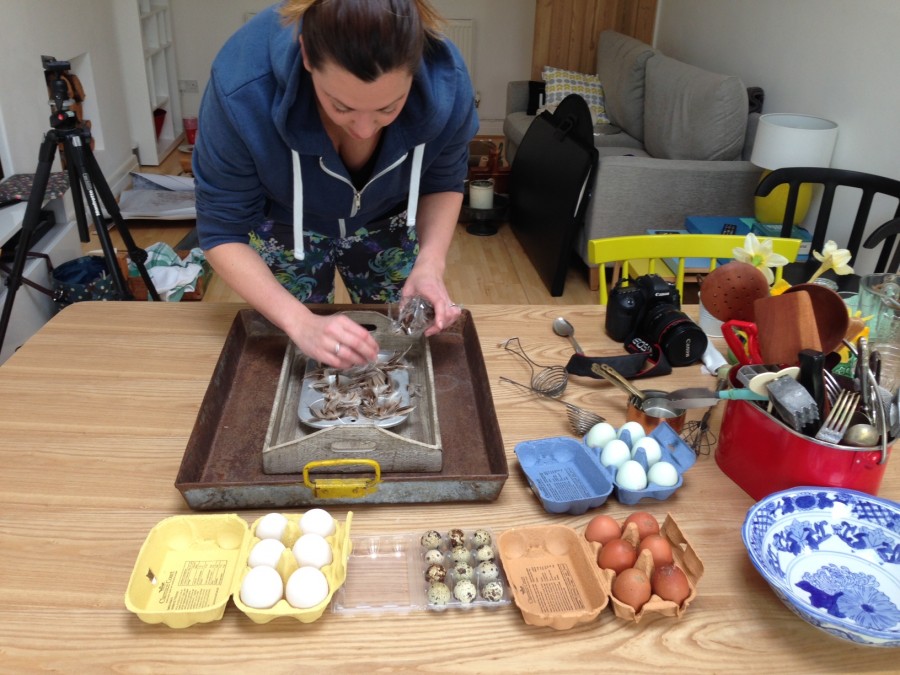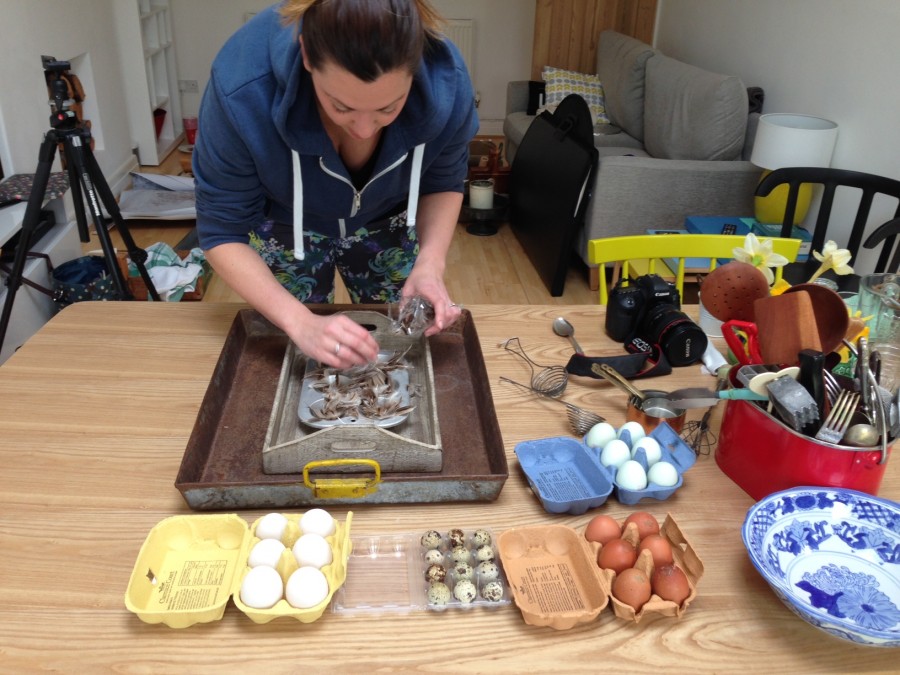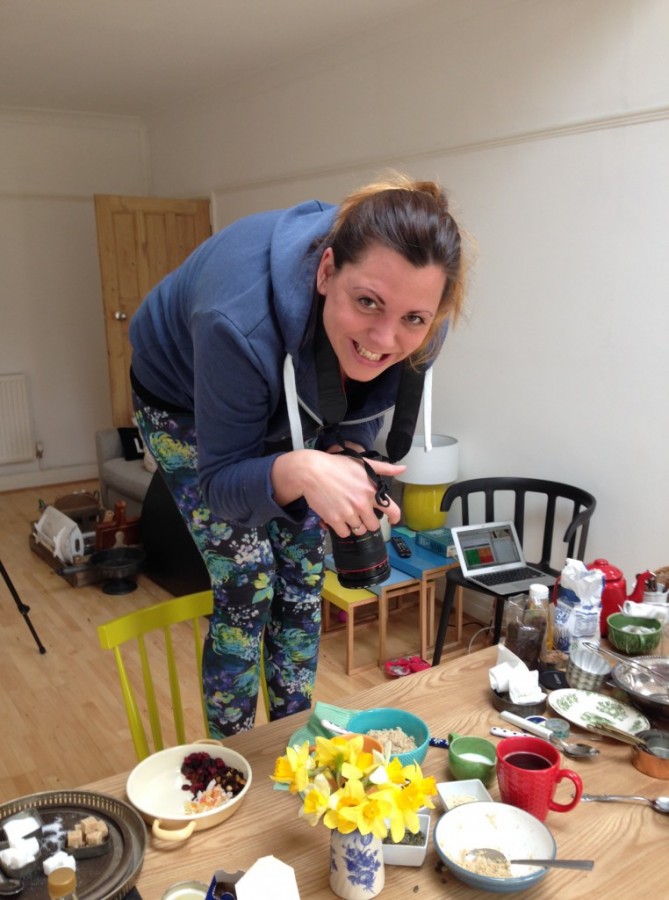 2. Let there be light 
Not too little, not too much. So ideal conditions are the natural daylight of an overcast day that still makes you squint a bit when you step outside. Be mindful of what that means in terms of how much of the day you actually have for taking photos. Irrespective of the clocks going forward recently, we were forced to call it a day at around 4.30pm. There are lots of tips and tricks for using little or indeed artificial light to your advantage but I've definitely noticed when I've blogged lunchtime meals I've been far happier with the final photo than ones I've attempted to take in an evening plagued by ghastly shadows casting over plates and bowls.
3. Prop yourself up
When we moved house last summer I wholeheartedly confess to thinking on one too many occasions "ooooooh, this'll be nice for the blog" as I merrily went about filling the new kitchen sideboard. At the expense of the sofa (too small, sale purchase) we could go without washing a mug for a fortnight for our morning coffee, have a different Cath Kidston tea towel for each day of the week and host a tea party for a heck of a lot of Mad Hatters. But where I missed out (too much West Elm, Habitat and Garden Trading Company) and where Lucy gets it oh so right is raiding charity shops for a vast array of cheap and quite frankly beautiful receptacles. Although that said, Lucy does a pretty good job at keeping Anthropologie in business in Europe…
Lucy also has an incredible array of backgrounds and surfaces that bring so much depth and texture to her shots – it's amazing. Changing a background made an insane difference to the mood and feel of something as simple as a bowl of freshly sliced fruit. My Summer Holiday Project is definitely going to include scouting out where Cardiff's best charity shop bargains are to be had and think about what I'm popping plates down onto ahead of taking a pic.
4. Remember there's no going back…
Just as I was ready to tuck into our lunch, Lucy politely reminded me that we hadn't yet taken the final shot we were looking for of the wonderful dish in front of us. Whoops! I've done this myself so many times at home. Cut into something that only looked perfect as a whole, scooped something out of a pan only for it to land splat on the plate. But heck, food's there for enjoying and better still nourishing us so if we all sat around worrying about how supper shapes up on our camera phone compared to how something actually tasted then something would be seriously up, right?!
5. Choose the right team to work with
As this was a shoot on behalf of a client me and my trusty Instagram filter just weren't going to cut it. It was time to call in the professionals. I already had a pretty clear idea in my mind what I hoped we'd achieve but Lucy and Pete went above and beyond to seriously exceed my expectations.
Pete sliced, diced, grilled, juiced and flash fried so perfectly. He brought a glorious extra touch to all the example recipes I'd provided him with and merrily went about his work without needing any additional input from me – safe to say he very quickly found his way around my little kitchen.
Lucy and I gelled from the get go. I first heard about Lucy's work when I attended the MAD Blog Awards last year. Ever since, I've kept an occasional eye on her various social media feeds and taken great delight in seeing her photography skills grow and develop. Lucy is insanely creative, goes above and beyond to match up to a client's brief and is, quite simply, lush. The shoot didn't feel like work at all as we squealed with delight at how the pics were shaping up.
Huge thanks to Pete and Lucy for all their hard work on this project. Stay tuned for more info on this exciting project coming soon.