Forgive me if you will. This post has nothing to do with nutrition and everything to do with interiors. But it's about me and I love sharing a bit more about me with you in each post.
When we left London I all of a sudden found this new love for interiors. Finally my husband and I would be moving to a place we could call home. Happily married for just shy of two years the pact was sufficiently strong enough that I got away with the purchase of a ridiculous number of hideously over priced scatter cushions. In a feat of the finest act of negotiation I even secured an Orla Kiely bedspread for a king size that genuinely rivals any hotel bed we've ever slept in.
But what I love most? It's The Shelf[ie].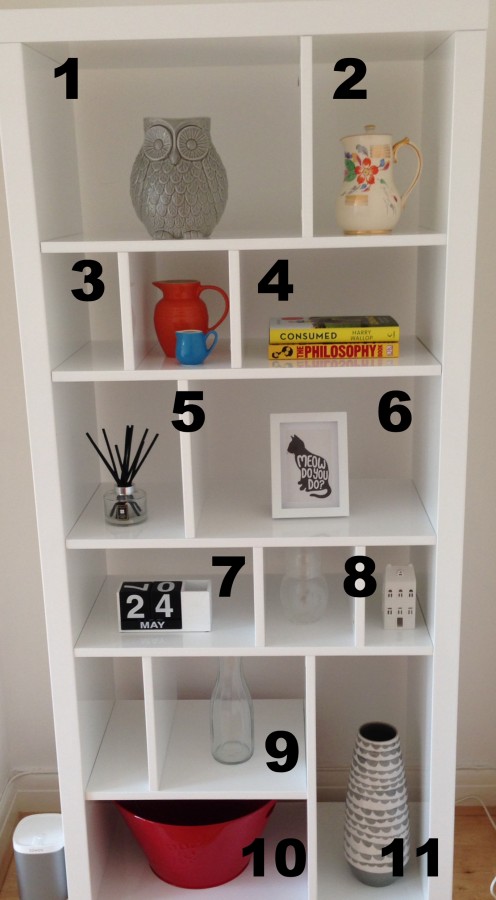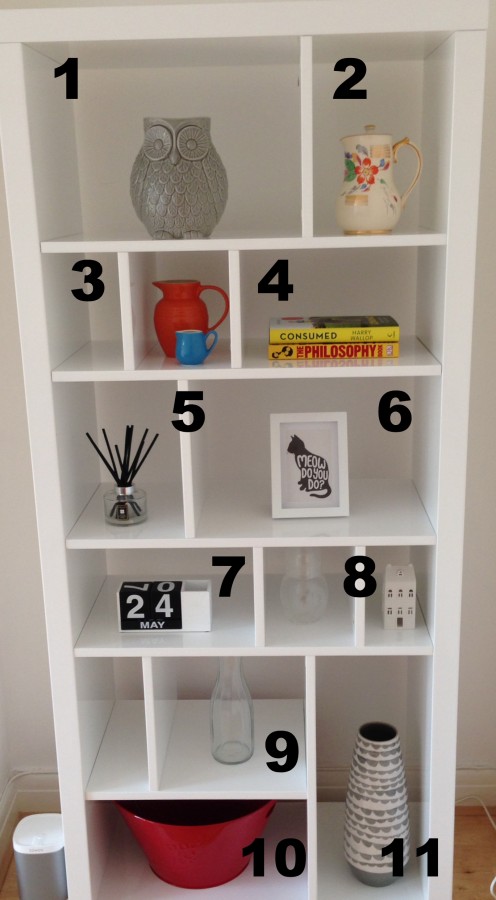 Above all, if I were an MDF creation, I would be this shelf. It's indulgent, it's frivolous, it's all a bit much. But underneath? Underneath it's got character, it's full of deep, genuine thoughtfulness. It wobbles if you give it too much of a bash and came it in 17 pieces that will cement my marriage forever such was the struggle to put them all together!
The owl
When we moved last summer owls were all the rage. My husband warned me they soon wouldn't be when everything (coasters, bedside lamp…) suddenly took on an owl theme. But I still love this little M&S cutie. Above all he reminds me of someone who I adore – having known for really, no time at all. She's so tough on herself, so kind and thoughtful towards others and she invited me into her home with open arms, fed me a feast and  (in a professional capacity!) made sure my invoices were paid on time for many months.
A little bit of vintage
All the cool people that don't simply settle for what John Lewis has to offer snag cool vintage bargains, don't they? Well, this wasn't a bargain but it was from a gorgeous little shop in my home town which I was so happy to see doing so well with such lovely things on offer.
Jugs
Along with owls I'm a bit obsessed with liquid-holding receptacles.  I love blue and orange as a colour pairing. Along with navy and yellow for that matter. The orange fella I picked up during a leave of absence from my day job when a bit of a break from caring for my Mum used to be an aimless, tear-drenched wander round TK Maxx. The blue one? Much later, when we were all starting to get back on our feet a bit. It came from a shop in Cowbridge that my parents actually fittingly went to a lot together.
The tome of the consumed consumer
If this shelf doesn't tell you I'm totally consumed by consumerism, I don't know what does. It's an ode to its author and a nod to the painful irony that it everything contained within these 17 pieces of MDF. Harry Wallop is an outright hero. He's taught me more about current / consumer affairs since I started following him on Twitter than anyone I've ever known. His sister is also 100% lush and a kick ass silversmith.
The philosophy book was so sneakily placed as a lovely gift from friends that borrowed our house when we were on holidays recently.
Reed diffuser
I mean, you've got to laugh at yourself, haven't you? Although nothing says you're 31 like a reed diffuser eh? Not least of all a Jo Malone one!
*sniff* The Cat *sniff*
Have you ever lost your Mum and then cried more when you lost the cat just shy of 9 months later? No, didn't think so… Nelson was 17. He was my Mum's favourite (no, you're not mistaken, she had two – in my opinion – rather successful daughters). He embodied Evil Genius. He was sneaky and mischievous and definitely not a lap cat. But he was adorable and he was the last bit of my Mum I felt I had to cling onto. And then he was gone. So because I don't want to get too close to becoming the crazy cat lady this is a postcard I picked up in Paperchase and popped in a wee frame. It's one of the first things folks see on coming into our living room and it's my own little way of saying "Everything ok with you?" when sometimes, things are far from ok with me – especially when I think of Nelson and my Mum.
The date block
One of the things my husband remembers so fondly about his childhood is changing his Grandma's date block when he went to visit. So I bought this for him as a little gift when we moved by means of compensating for scatter cushion spends and occupying a rather large corner of the living room with this 'Shelf Thing'
'Filler'
No story to the Russian Doll or Porcelain House Tealight Holder, sorry.
The Carafe
I love my Dad. I love my Dad so, so much. I feel blessed to have someone so fun loving and crazy and adventure embracing that celebrated their 70th birthday this year. My Dad is a man who always 'can'. So, on the same weekend I'd been to the gorgeous Mooring (a beautiful gem of a restaurant run by a seriously inspirational team) and upturned their carafe at the end of dinner to see where it had come from my Dad paid his first visit to IKEA with one of his oldest friends of the same age. On the off chance he'd find a needle in a hay stack I asked if he could keep an eye out for the "LÖNSAM". Reader, he returned with the LÖNSAM!
10. & 11. Parties and vases
That red beer / ice bucket was going to be for our wild house warming. We still haven't had one. We will have lived here for a year in September. But that's because times have changed. I don't really do big parties or going out, out anymore. I'm about fine wine and fresh flowers. Lillies. I love lillies. I ignore those numpties that say "oooooh, they're the flower of death" and I love to fill this vase that was so perfectly made for their long, long stems. It's a little luxury I can't always stretch to but it's one of the many reasons why I gladly have so many folks round for dinner.
This is an entry for a Victoria Plumb competition that could see me win £500 to do something with our Gawd awful bathroom. The lovely folks at Victoria Plumb have already declared me "kind of quirky, a bit cool…" and most like Jess or Nick from New Girl (who?!? I need to stop buying reed diffusers and get out more) according to their quiz.
Apparently my dream bathroom would reflect my original, hip nature with a cool, comtemporary suite like the Maine, the toilet even features an eo water-saving flush!
Fingers crossed eh?