I can't remember when I first came across the Hemsley + Hemsley sisters' column for Vogue but what I do remember distinctly is rolling my eyes. "Here we go again." I thought. "Former model Jasmine presents smoothies and salads and not a lot else." *sigh* But something kept me reading. And I'm glad that it did. The Hemsley sisters, Melissa and Jasmine, succeeded in bringing something to pro size zero Vogue that had never been entertained before – a celebration of fats. And stews. And wholesome, hearty fare; all woven between the lines of green juices and clear broths.
The column for Vogue translated into a book deal and "The Art of Eating Well" was born. It is without doubt the most beautiful and useful book I've bought in a very long time. I am unfortunately that person that collects recipe books – so much of my cooking is a bit of this, a bit of that, all thrown together in the hope of winging it to the dinner table! Recipe books? They're all about the pictures, right? In just a week of owning 'The Art of Eating Well' I'd already made butternut squash puddings, broccoli slaw and the infamous black bean brownies.
As someone that spent nearly a decade in PR and more recently turned her hand to retrain to be a nutritional therapist, I've watched the Hemsley sisters in awe. They've graced multiple pages of national newspapers, have made gorgeous videos for high street retailers, have an insanely covetable tableware collection and a wardrobe of outfits I'd love to borrow at the weekend. But the best bit? They're nice. Like really nice.
Told you they were lovely… Melissa panders to my selfie request!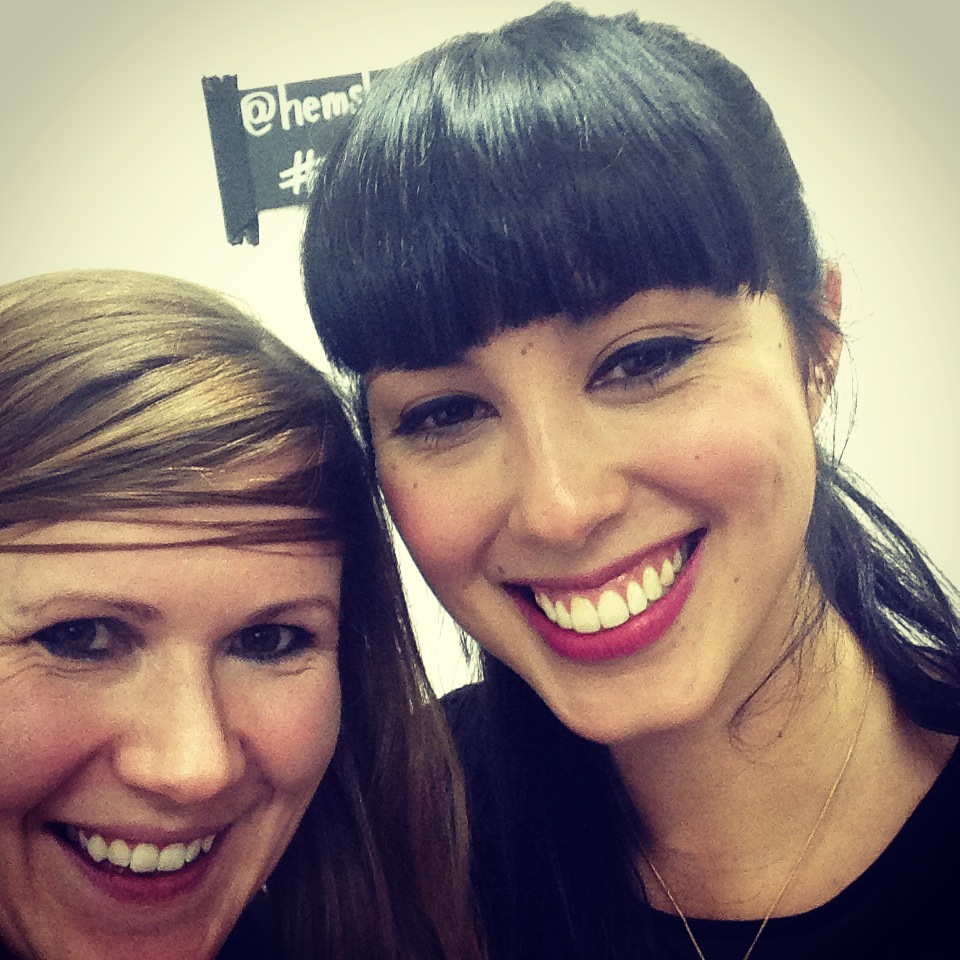 Last Wednesday night I went along to a Winter Warmers tasting evening with the Hemsley sisters at The College of Naturopathic Medicine. That's how I got to know how lovely this pair truly is. It was smiles a-go-go from the outset. It was informed, off the cuff discussion (which has admittedly been delivered at length this summer at a series of high profile literary festivals). It was open, honest and fun. There's something rather endearing and refreshing about a former, still very beautiful, model talking about poo, counting the number of times you wipe after doing so and the glamorous past time that is tongue scraping. Melissa spent nearly an hour right before the event foraging for organic carrots in central London. Jasmine brought Daal in a Thermos that she took back home to have for dinner. They live very busy lives but they still make time for the important things – especially meal times.
Melissa and Jasmine emphasise giving the right amount of time to enjoying your food. Chew it properly. Savour it. Stop being so seduced by the rustling plastic packets of 'grab and go'. Take your time. It doesn't need to be fancy but enjoy it. Warming one pots can often feel more nourishing than cool salads or smoothies; whilst they have their place, they're no winter warmers. Treat breakfast just like any other meal – Mama Hemsley is a fan of fish first thing apparently. Take small steps to bigger improvements with kids – a sneaky floret of broccoli here, a refined sugar free Frozen birthday cake there.
I understand there's another event like this being run in February and it's well worth finding out more.
Do you have a foodie idol? It's safe to say Melissa and Jasmine have quickly become mine.