So the first full working week of the year is long behind us all. How was it for you? Did you, "start on Monday?"
I'd like to think I'd done sufficient press ganging ahead of the dreaded dawn of January 1st to ensure none of you, my dear readers that I care about so much, weren't so much as contemplating a diet. But if you were committed to starting something this year, I sure as heck hope you went for it.
I do love the clean slate of a new calendar year. At the stroke of midnight we were at a wedding. There were of course fireworks but my husband and I shared equally explosive looks at one another that confirmed it was a year of yet more inevitable changes. Never necessarily better or worse. Just different. And we're big fans of variety.
But one thing I'm determined doesn't change, yet continues to evolve, this year is working out what my version of healthy looks like – and likewise, hopefully helping you to work out yours too.
2014 – The year of more cake. Long may that continue in 2015.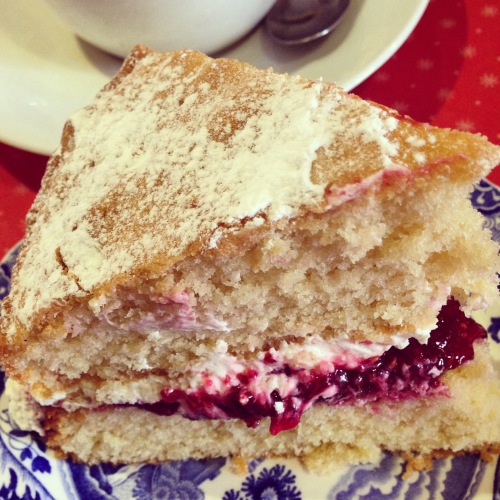 2014 was one of several wellbeing milestones:
I quit the gym
I ate more cake
And a lot less meat
There were times when I felt like a bit of a fraud. Some shining example of well being I am? No gym membership and a penchant for Vicky sponge?! But I finally (FINALLY! *rejoices*) got a handle on what's healthy for someone else isn't necessarily healthy for me. So the gym is great, and the buzz from a high intensity work out like no other but if I arrive stressed, work out and produce more stress, speed home, shovel down dinner, indigestion, stress, disrupted sleep that's definitely not supporting my commitment and keenness to live to a hundred!
Cake. Also a symbol of being that bit kinder to myself. Finally breaking free from the handcuffs of disordered eating; having a slice, sometimes even just a forkful, with a cuppa but no side orders of guilt and self loathing or bingeing through the remainder of the gateau. Protein I will never deny is important but I've thought so carefully about where my meat is coming from and balanced higher organic price tags with plentiful pulses and beans.
So what about you? I've already seen brilliant things happening and indeed this started in 2014 for some too. Sally more than three stone lighter. Regular swimming, less takeaway orders and embracing sensible at mealtimes. She didn't make a big song and dance about it or deny herself (you should see her Instagram feed from a US road trip!). She got on with it and has redefined what's healthy for her. Sammy, the bride that worked out so hard that's now finding her way in and out of the gym about what life (and health and fitness ambition) looks like when you no longer have a white dress to fit into. New Mum, Sasha, navigating her way through the jungle of parenting; blogging honestly, openly and remaining gorgeous and well fed in the process. Ceri, ever committed to spending more of life upside down, starting with a 30 day straight run of nourishing yoga sessions. Jane. Still mental, still highly entertaining. Still embracing all Paleo taught her about eating that bit better.
I'm now half way through my studies and with still so much to learn 2015 will no doubt be the year of yet more wellbeing changes. The opportunity to keep on tweaking yet remaining kind to myself at all
times.
So tell me, what does healthy look like for you this year?