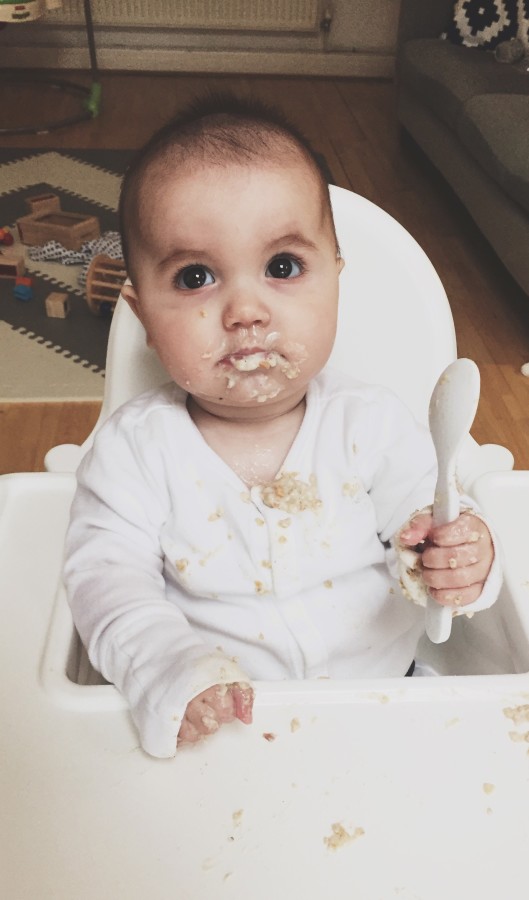 For better or worse (I'm undecided which) all the lectures that I missed at the start of the term while nursing a newborn (and am still to catch up on) were around preconception, pregnancy, infant feeding, weaning, children and adolescents. Thankfully it's meant I haven't been sat there thinking "why didn't I do that?" or "why the heck did I do that?" but it has left me as clueless as the next first time parent when it comes to weaning.
After a pretty brutal breastfeeding battle, that I never saw coming, I was determined we (I!) would do all we could to stay as cool as a cucumber [baton] around our baby's first introduction to solid food. Deciding to stop breast feeding at 7 weeks still hangs over me from a nutritional point of view and I won't lie, I was beyond determined to adhere to at least one of the WHO's guidelines around infant feeding  and not introduce solids before 6 months – March.
We started some early groundwork adding some essentials to Ffion's Christmas list:
One of my biggest bits of advice before getting started, if you can, is to talk to people who have weaned their own babies – whether that was this week or in the past ten years. Chances are everyone remembers something different about the process and there wasn't one bit of advice I got that I haven't found useful. Because I wish I'd basically moved in with her during those really tough breastfeeding days for some moral support, lovely Emily was my first port of call for suggestions. She's like an online fairy godmother which counts for a lot when your own Mum isn't around anymore. Emily also kindly handed down her copy of the Gill Rapley baby led weaning book which has basically been our bible and kept us going down the baby led route when we've thought perhaps we should have opted for purees – see choking incidents below! I also spoke with former colleagues, the other NCT parents in our group with older babies, pregnancy yoga pals and my nutritional therapist.
And we were off. We picked the Saturday before Ffion's 6 month birthday (the Monday) so we could share that first taste moment as a whole family. The excitement built… There was no question her first taste had to be avocado (have you met her Mother…?) and I'd love to pretend I didn't think about where to position the highchair for that all important Instagram memory… Little avocado wedges were lovingly prepared along with a small amount smashed in a bowl with a bit of formula milk, offered to her on a spoon. Doidy cup at the ready for a drop of water and also placed on the tray. We buckled her into the highchair. And then? Then, within seconds, the bowl full of smash was on the floor, up the wall, in amongst the ridiculously impractical decorative logs we inherited from the previous owner. The mere soupçon of water become Lake Como atop the trusty Antilop. With parenting, these major milestone moments never quite work out as you think they should…
Oh Lordy, Lord…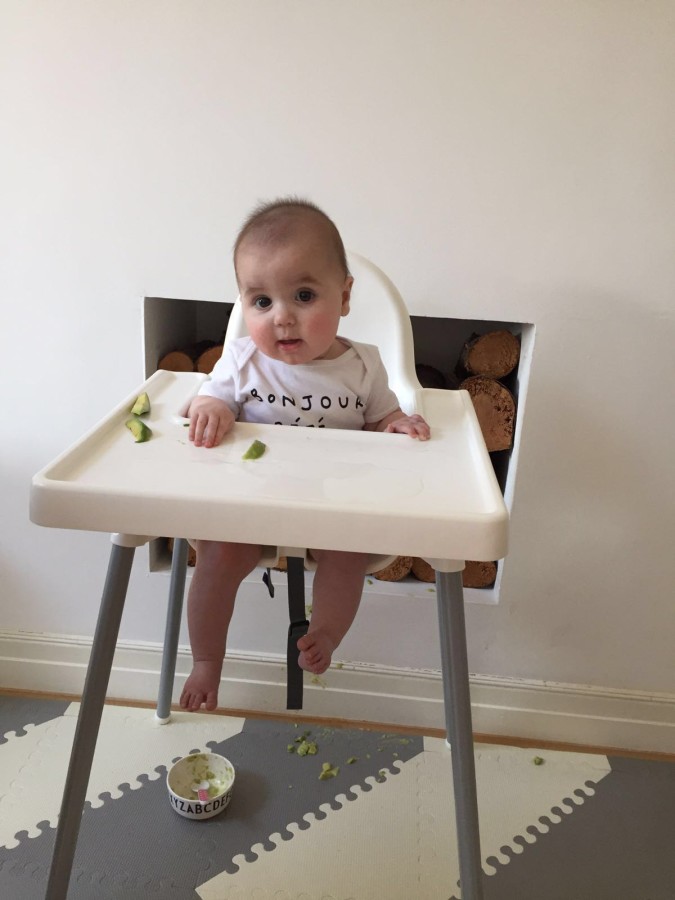 It definitely takes a while to build up to any eating actually happening with baby led weaning – and with hindsight the avocado wedges were a ridiculous idea as they are so darn slippery and impossible for little hands to hold. In the first week we started with two tastes a day, just vegetables initially, in the morning and at lunchtime, then after that three 'meals' (and I use that term very, very loosely in terms of the volume actually eaten) featuring meat, fish, fruits, vegetables and a variety of carbohydrates.
Building up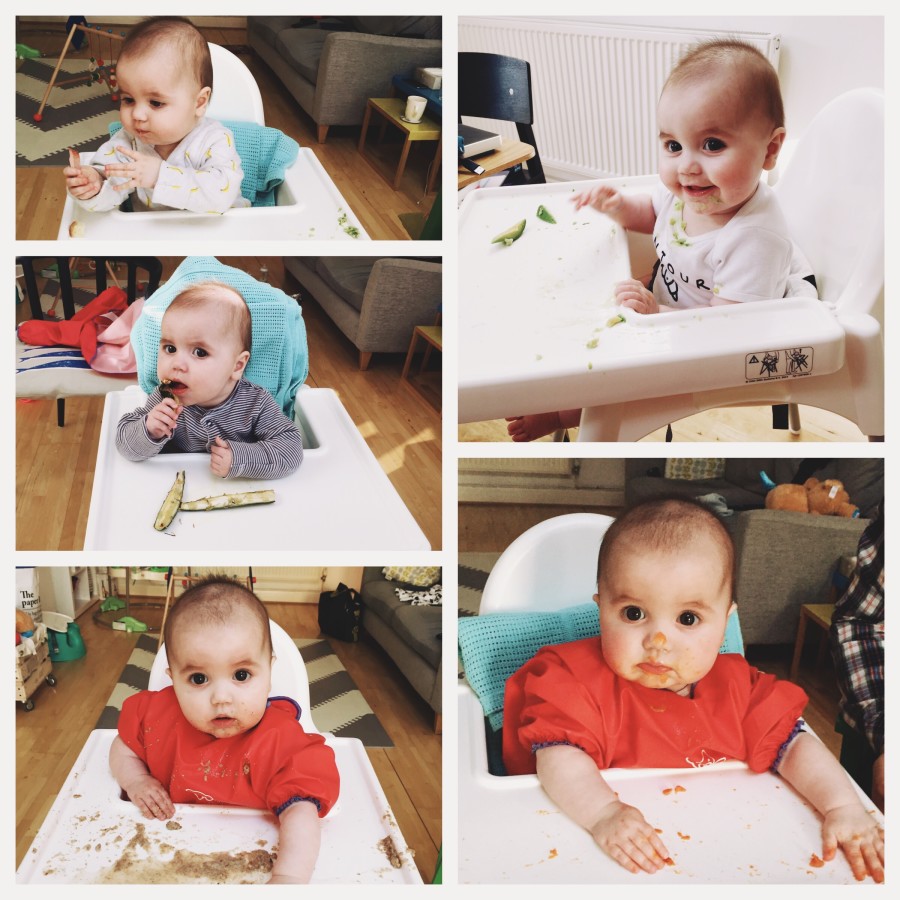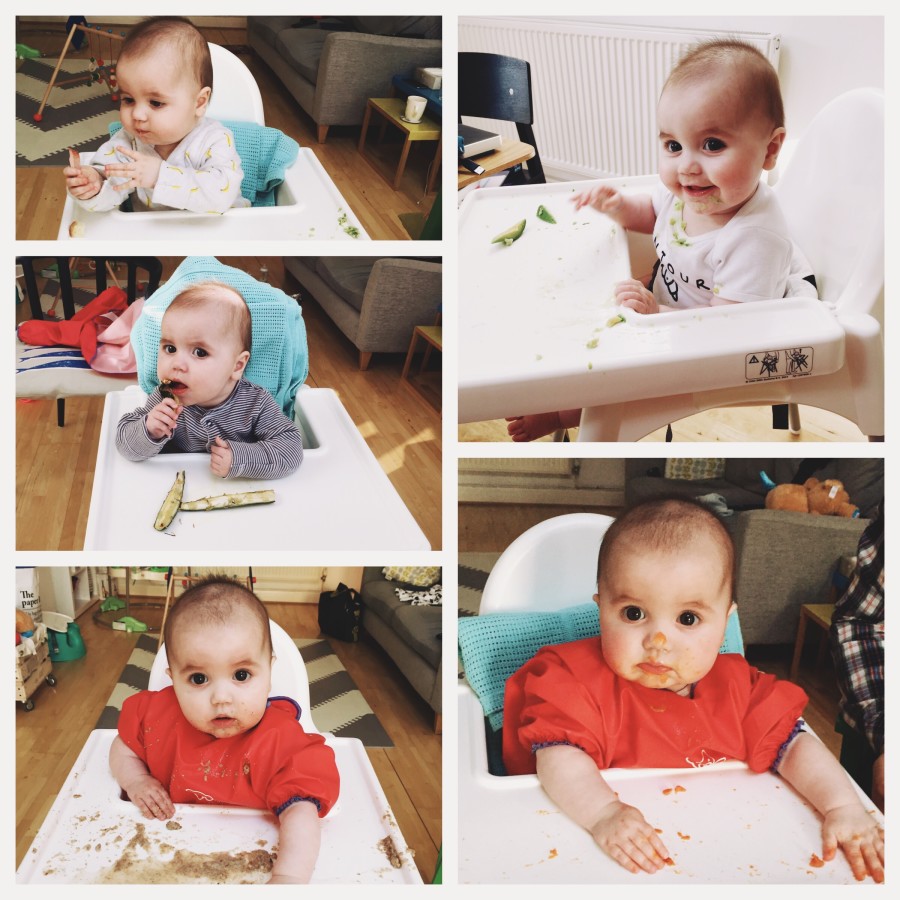 We genuinely have all eaten the same at mealtimes. We don't have any "baby foods", just food. Ffion has tried blue cheese, anchovies, curries, cassoulets and a ton of the more usual suspect finger foods like cream cheese celery boats and pepper crudités. The only meal we don't yet share is at teatime where practicalities of Daddy not yet being home from work and Mummy not having yet prepped the dinner mean Ffion usually has leftovers from a previous meal or something quick like an omelette.
Quinoa. Questionable, she tells me…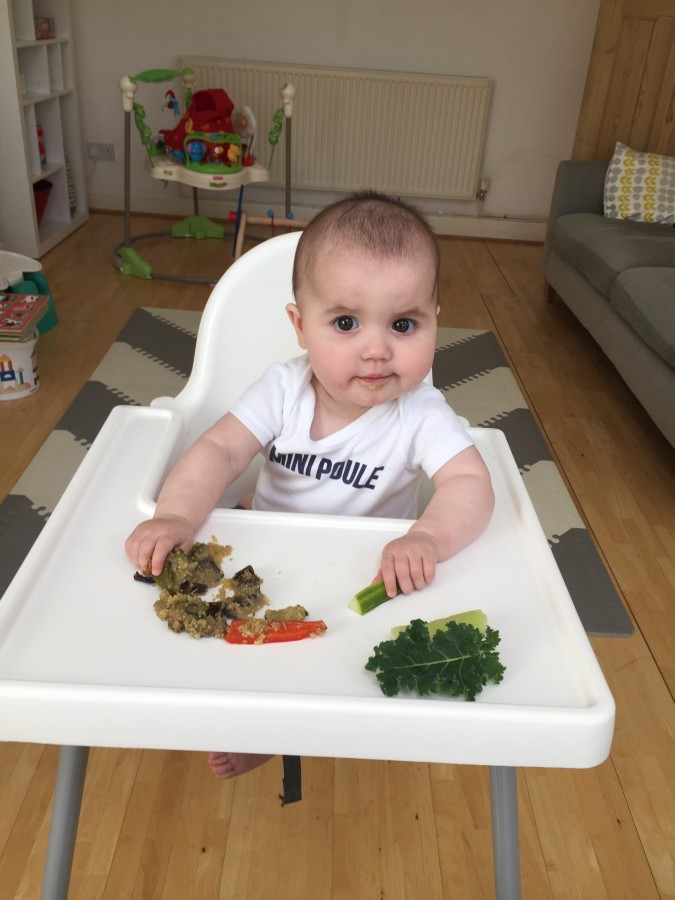 There is little rhyme or reason to how much Ffion eats with some mealtimes being unexplainably far more successful than others. She's far less keen to eat when cutting a tooth (ouchy) and will sit in the highchair for far longer when surrounded by our family and friends and lots of lively conversation. I've worked so hard to draw a line under every meal time, not obsessing over apparent 'favourites' (oranges, without a doubt) or worrying about so little having actually passed her lips. It is hard to keep thinking "food before one is just for fun" but Ffion continues to grow (out of her clothes. Far too quickly!) and is still drinking a fair amount of milk.
Sometimes she eats more than others…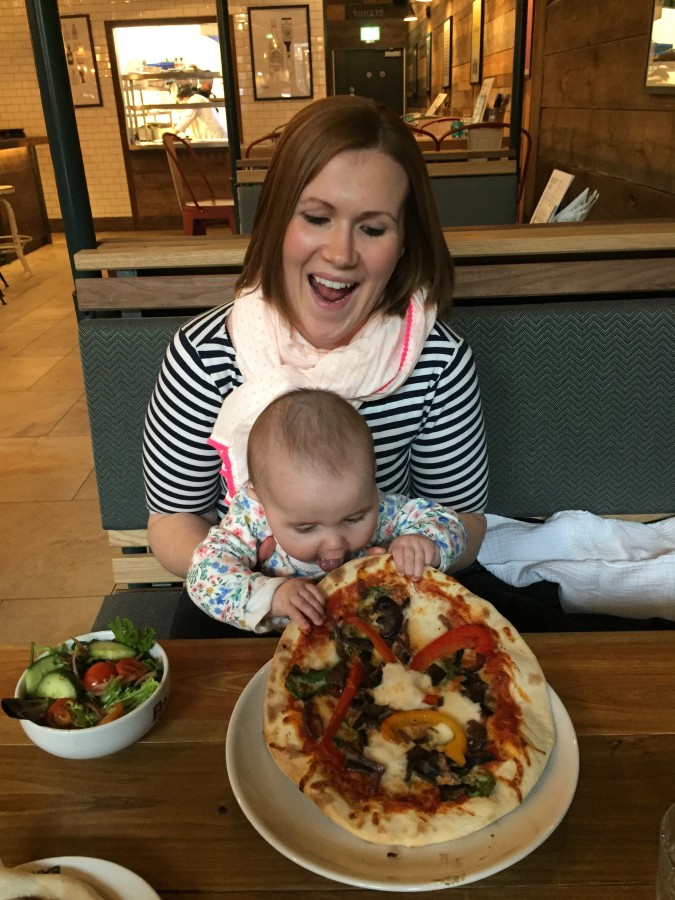 Baby led weaning has felt so much more straightforward than pureeing foods separately as Ffion has become part of our mealtimes and fitted in with our existing family eating patterns very quickly. For any time saved on not prepping food for her separately it's definitely been spent scrubbing the floor (walls, chairs, etc). Our child shows such beautiful amounts of affection as I bend down to clean the floor beneath her by rubbing her filthy fingers through my hair and squealing with sheer delight.
There's probably still Weetabix in my hair from March…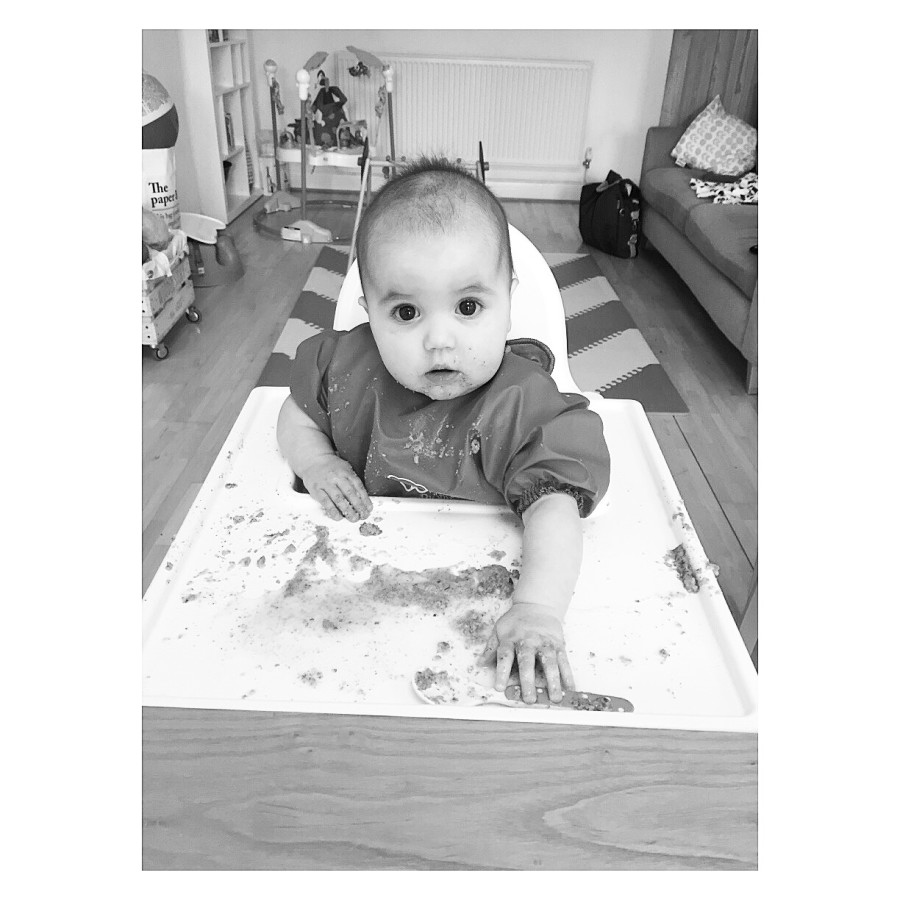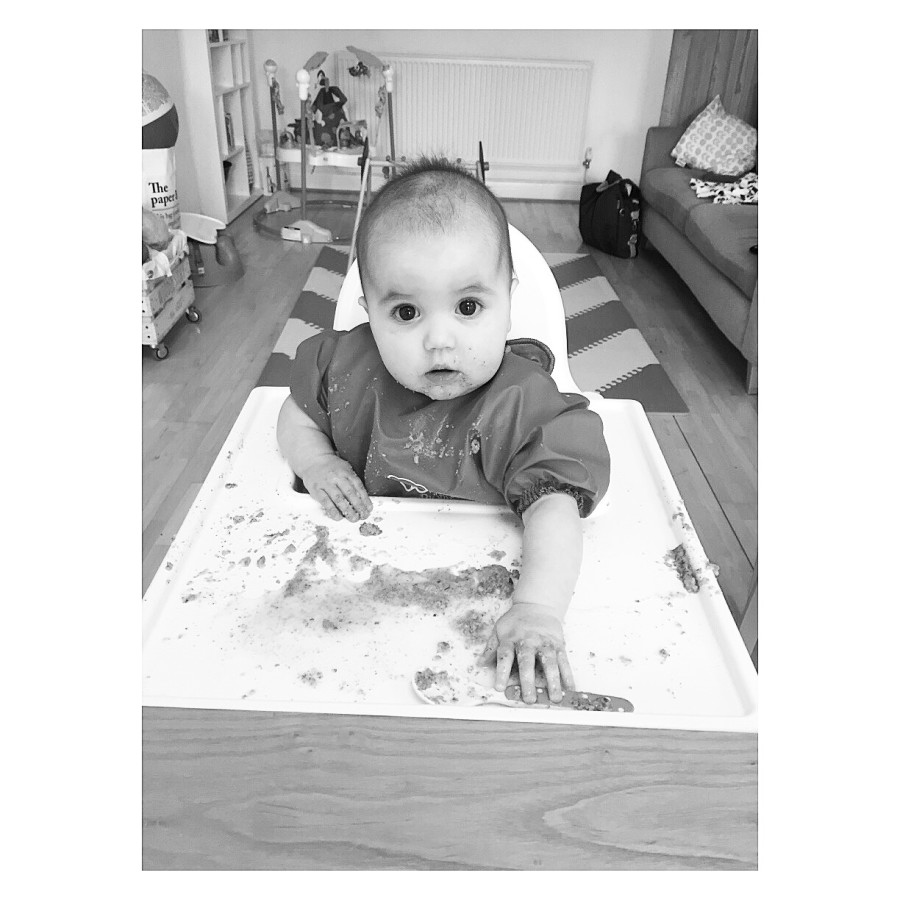 There's plenty about gag reflexes in all books on weaning and you feel like you're prepared for the 'choking' events until the worse one happens in a small but busy coffee shop on a Saturday lunchtime where time stands still and the mouths of onlookers remain wide open until your child dutifully hacks up the offending broccoli when all the while you've felt sick to the pit of your stomach wondering if the Heimlich maneuver you practiced in the Brownies is going to have to be put to use.
I'm a firm believer lessons in life begin at the dining table and whilst not every meal time to date has been worthy of some smuggy mcsmuggerson family TV ad, it feels like we've already shared some memorable moments – three course Easter lunches, pitta bread pizza making together, Sundays at the pub, al fresco adventures and not least of all wedding breakfasts.
Proper posh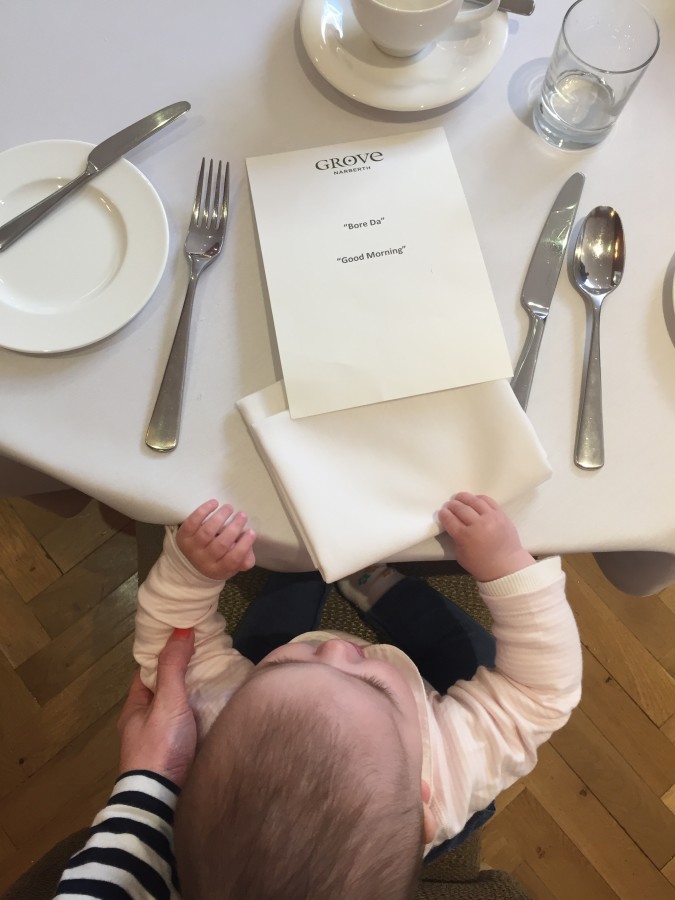 I've started reading the absolutely brilliant "First Bite" by Bee Wilson and would recommend it to anyone that eats. It's not only supported our weaning journey so wonderfully but also made me think about my own eating patterns and behaviours. Perhaps this will prove a valuable time for our whole family to reconnect with food.
Do you have any top tips to share on weaning? How did it pan out for you and your family?