I love cooking. It's a way for me to relax, a form of release. I'm a provider. It makes me extremely happy to see others enjoying my food. That said, I'm aware of my kitchen comfort zone, tend to wheel out a regular selection of favourites I know my husband is a big fan of and when hosting a bigger dinner party will nearly always opt for a failsafe slow cooked roast of high quality meat – invariably lamb or pork belly.
This week I've surprised myself by trying two entirely new and very different recipes with great results. Here's more:
A resounding saucy success: Cucina Ceri's Calamari con Salsa Verde
I tried Ceri's immense squid and green sauce on a Tuesday night. I didn't have much squid so piled up the carrots and courgettes and served it as a big plate starter for my dinner guests (we're only talking my sister and husband here, so easy to please) to dive into with a fork each ahead of a heartier main course. I failed miserably on just one front though – I didn't take a pic before it all got gobbled up! Sorry. It did however make me determined to put the leftovers to great use and here's a pic of my lunch the following day of cold roast chook coated in salsa verde, spinach, avo and sauerkraut.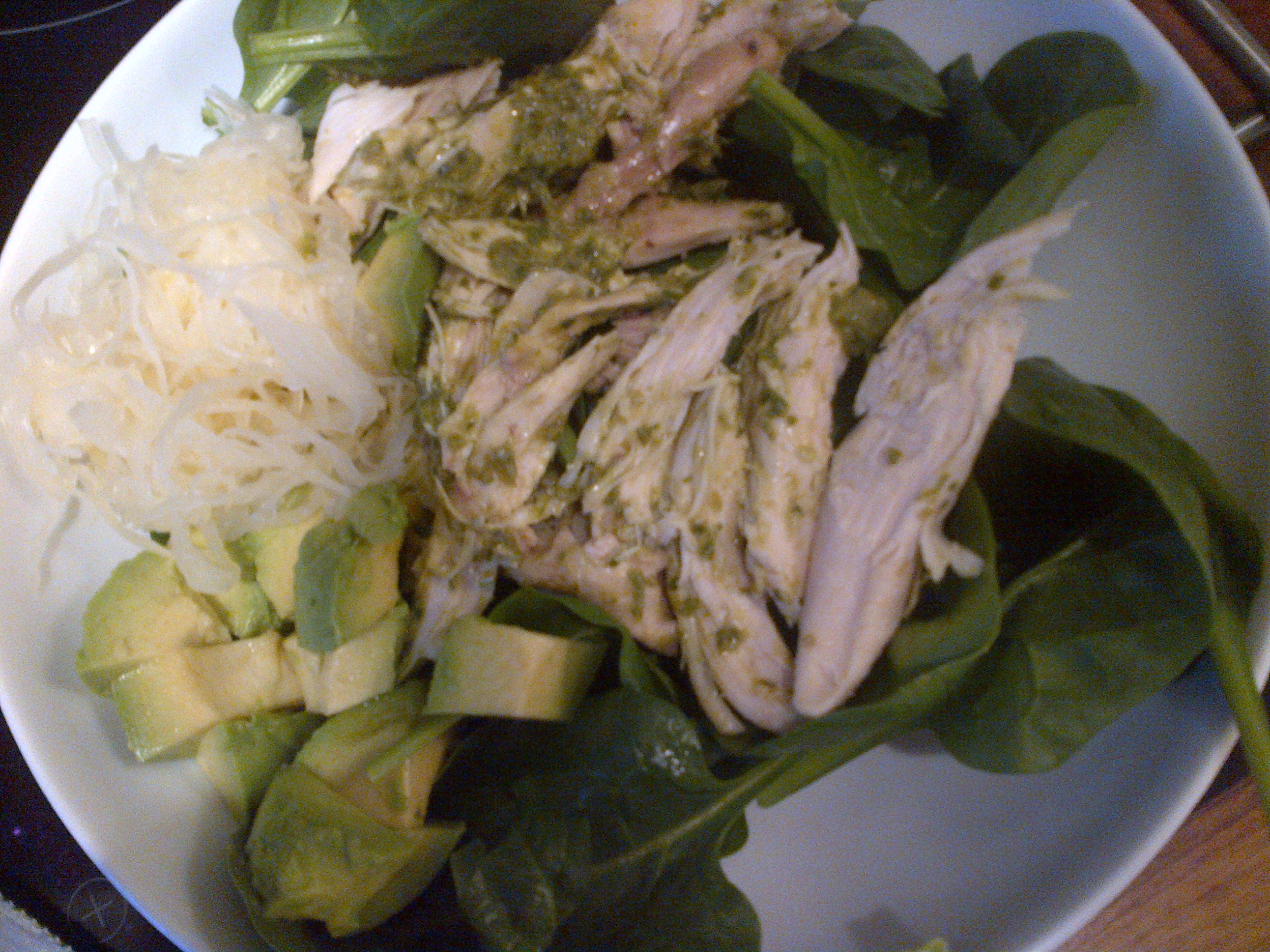 I love clean eating, I'm relatively Paleo and never have any qualms coming home from work and cooking up dinner from products with just a single ingredient. Where I do come a bit unstuck though is sauces. If chopped tomatoes or puree aren't going to help me out I don't usually bother. I find it time consuming and all a bit indulgent for a week night. I am however really glad I bothered with the salsa verde. It gave a divine edge to the carrots, squid and courgettes when hot and then it was ace on the cold chicken salad leftovers. As I typically didn't have any of the fresh herbs required (everything but!) in my fridge it came in at about £5 to make but given it was truly delish and I lapped up all the leftovers AND sneakily fed my anchovy-loathing spouse and sibling uh, anchovies it was worth every penny. A resounding saucy success. It's also given me lots more confidence to try further sauce creations in future.
A bit about Ceri: Ceri's a friend of a friend and one of the people I'm proud to call a Paleo / clean eating mentor. We trained for and ran our first marathon in the same year (2011) shared tales of woe, cleaned up our diets and our lives simultaneously. Her blog is excellent, her gossip over a herbal tea on a week night even better.
All 'manna' of delights ahead: Fitter London's Fruit and Nut bars
Nearly a year ago one of Fitter London's members posted a recipe to the group's Facebook page for a dried fruit and nut fridge 'cake' made with coconut manna. It looked immense. I went onto Amazon and hooked myself up with a jar of the stuff immediately thinking it would be a great post training snack for marathon season. A year on that jar was still sat in my cupboard as I simply didn't know what to do with it (how did I use this solid white stuff?) – and more importantly needed something that I could justify using the best part of a £10 ingredient on – and be sure I wouldn't mess it up. As if by magic, Matt and Keris very kindly posted a delicious selection of Mother's Day treats. And so I set about melting this, that and the other, mixing, freezing and serving. My husband's response: "Walts, that was triumphant". I puffed out my chest and took a bite for myself. WOW! You've seriously got to try this one. The recipe wisely says freeze what your willpower cannot handle and I too am the first to reiterate that just because a treat is made from decent ingredients it doesn't mean you can eat it for breakfast, lunch and dinner. I'll be taking some of the leftovers in for the office. Don't tell my husband, he's understandably quite possessive of this stuff! All manna (I'm here all week…) of things no doubt lie ahead with this jar of white amazingness.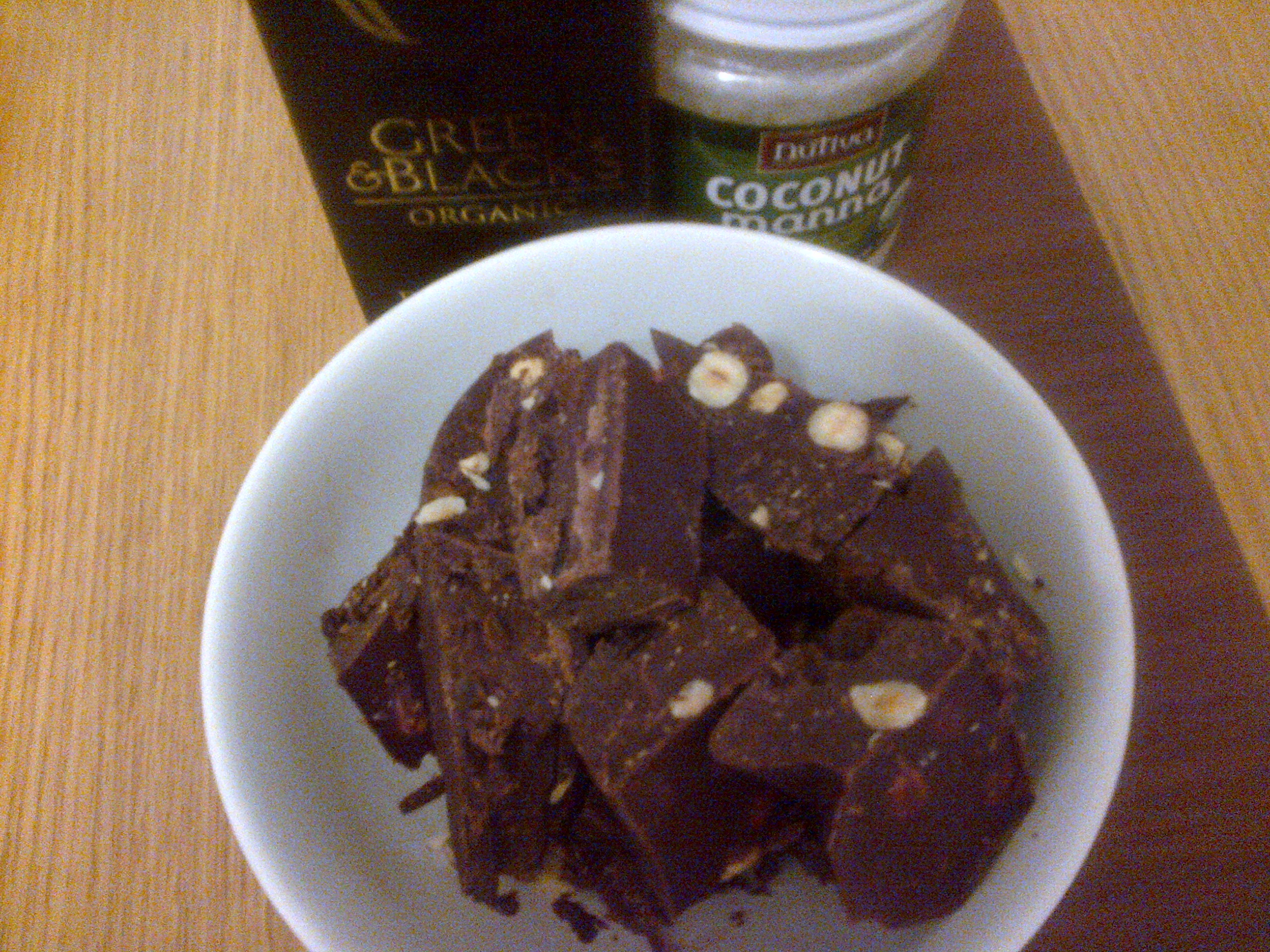 A bit about Matt and Keris: The 'Mum' and 'Dad' of Fitter London and authors of 'Fitter Food – A Lifelong Recipe For Health & Fat Loss'. Ceri got me involved in Fitter London as a regular attendee of their classes. I went once. I haven't been back since. They do burpee /push up pyramids for a warm up. A warm up? I've gladly watched both Keris and Matt grow via their awesome social media channels. Their Facebook pages are well worth a 'like' – especially for Motivational Mondays.