This week's round up looks back at some of the things I've eaten this week with a particular focus on clean eating on a budget.
There are tonnes of online resources and other blog posts that cover this topic but I've always found them a bit broad brush and not necessarily realistic – e.g. buy a whole cow with a mate, never ever buy from a supermarket and don't eat out. Who can live like that all the time? Not me – or you, I'd imagine.
There's no denying clean eating on a budget is challenging. I speak from valuable experience. At the start of this year my husband and I had a combined six figure salary, we shopped at Ocado until our hearts' content. Weekly deliveries were common, as was topping up a larger shop with trips to the Waitrose behind my office and the Whole Foods in front of his. We spent easily £600 a month on food (and some wine, I confess…) and didn't worry about it.
Now we find ourselves living off one wage that's three fifths of one of our previous London salaries. We're far from on the breadline and we're very lucky to have what we do. But it's represented a big change for us and one we've had to adapt to quickly in order to keep enjoying good, whole foods.
Here's how we've been going about clean eating on a budget
1. Embrace the low budget supermarket
As fate would have it, our new house is opposite a Lidl. I'd never been in one before. I'd (wrongly) equated the store with poor quality and rubbish foods. It couldn't actually be further from the truth.
If you shop wisely, there really are some hidden gems to be found. Some of my favourites include their rye bread, oat cakes, Danish smoked salmon and dark chocolate. Easily a third of the price of their equivalents that I've spent much of my adult life buying.
2. Do what your Grandmother would do – don't waste a scrap
We hosted a yummy lunch on Sunday (even if I do say so myself). The £22 leg of Welsh lamb served us extremely well. Second helpings for five, a plated dinner left for 'im indoors on Monday and then the deliciousness that was this:
Cawl – a traditional Welsh broth of lamb, potato, leeks, carrots and stock. Into the slow cooker the leg of lamb went. Two pints of stock, all the scarps of meat and the additional ingredients later, all bubbling away in a pan has made for additional helpings of a perfect lunchtime autumnal warmer.
3. Be less picky and get creative
I don't really like carrots  – at least not on their own and I'd never choose them as a vegetable on the side. But they're cheap. And I came across these organic gems, grown in Norfolk in Lidl this week for 90p. Quantity wise, few things can compare when it comes to cost effectiveness gram for gram. So I had a think about how I do like to eat carrots. I  bought them and I roasted them. Divine.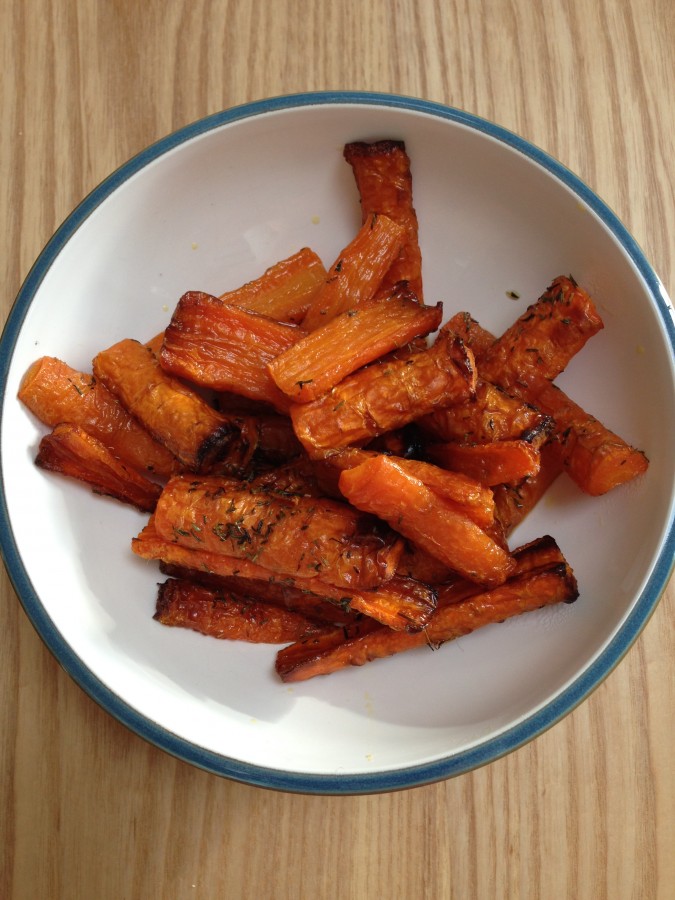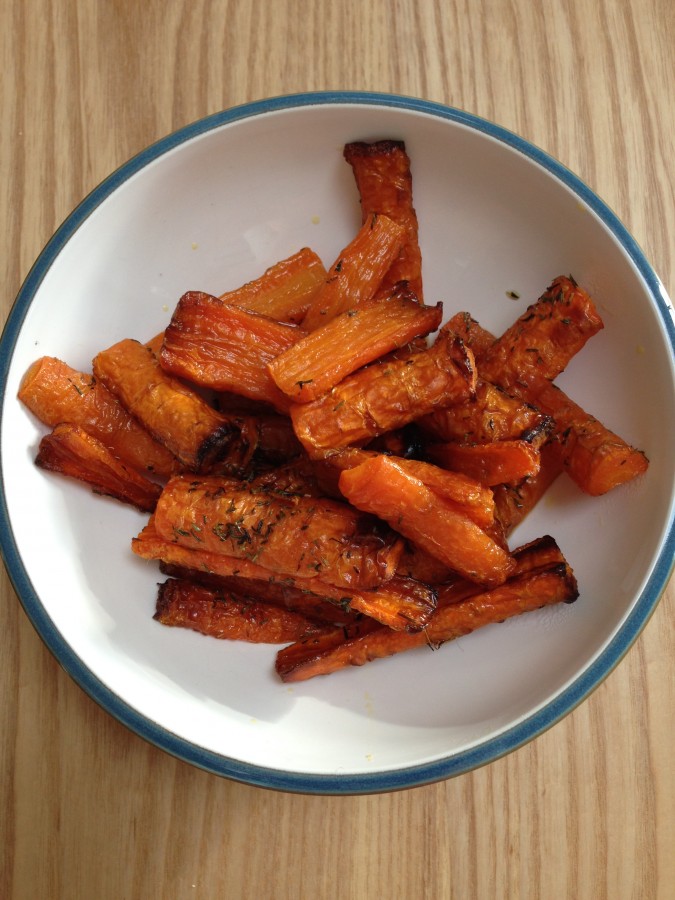 4. It's about less, but better
Meat used to make up such a huge part of our shopping bill but now we've found more of a balance and included some new veggie recipes into our weekly repertoire. This spinach, mushroom and feta crustless pie was a big dinner hit – and perfect for breakfast leftovers too. Obviously I switched the hideous spray oil for butter and used cream instead of milk to make it that bit more filling. Cruising for a heart attack? Not just yet…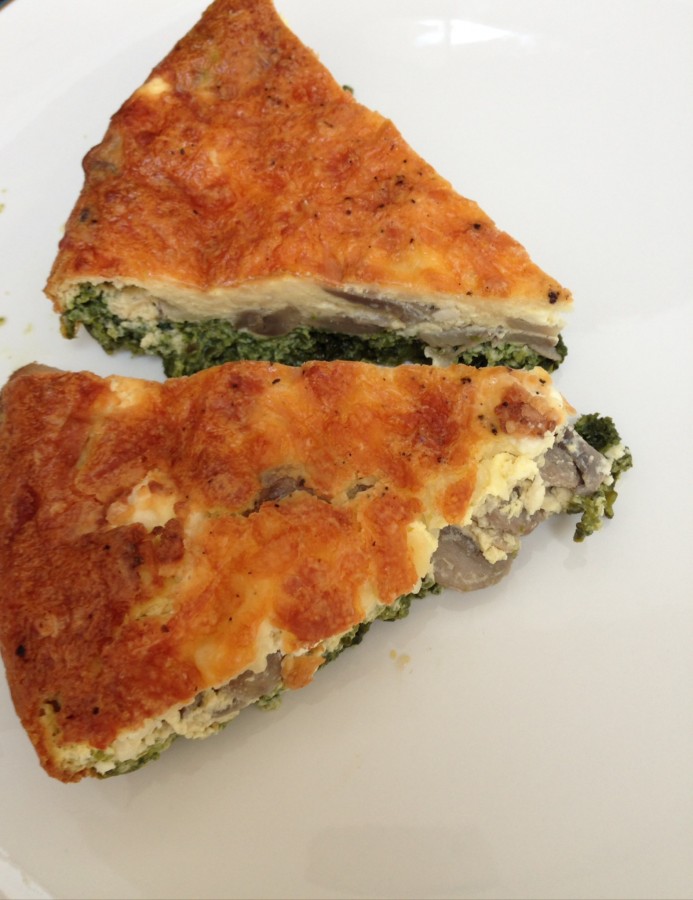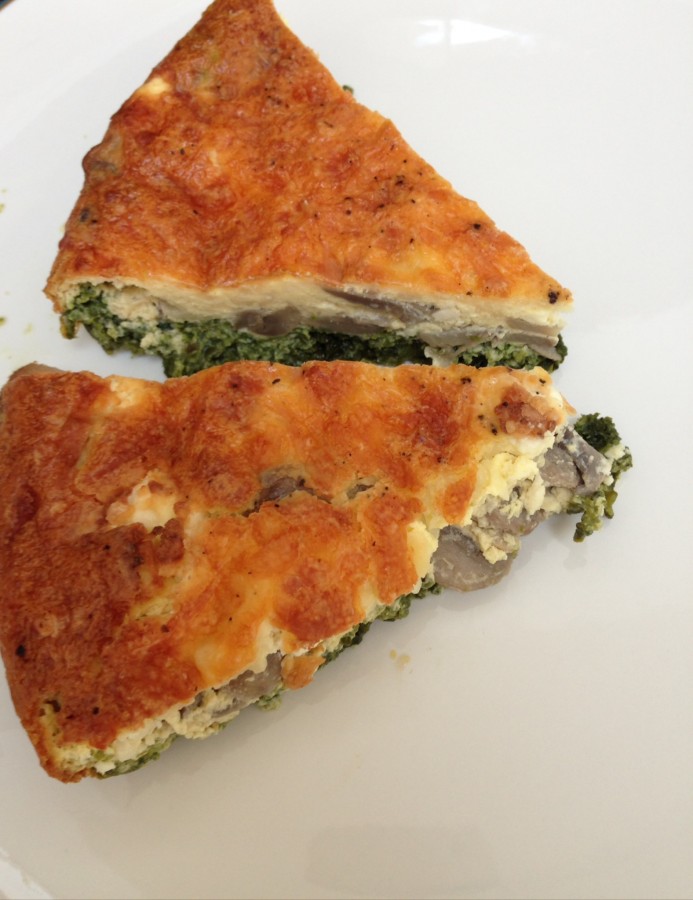 One other thing that has made a crazy, crazy difference has been the speed at which I eat and the number of times I chew my food. This was really hammered home in a recent lecture as part of my course around digestion. It really struck a chord (even though I've heard it so many times before) so a casual put down of my knife and fork in between the at least 10 chews has left me fuller for longer. Including a portion of pulses a day is the cheapest form of both filler and digestive system mover I could have wished for.
How much do you spend on your groceries? Where do you splurge? Where do you cut back?