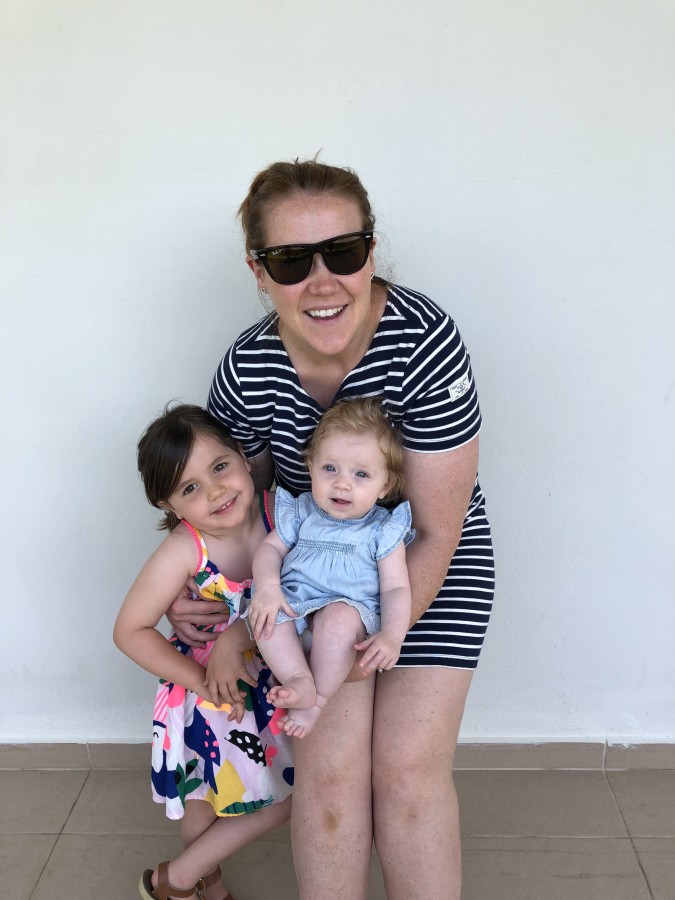 The heady highs of the first three months were quick to evaporate with the dawn of month four. It's been three more recent months in a pressure cooker of utter overwhelm. I am giddy; rarely with excitement but the relentless and savage burden of the mental load. I am beyond sick and of course forever tired of losing yet another hair brush, my glasses – dangerously close to the next thing being my mind. I'm going through daily internal conflict of "why am I finding this so tough?!" given we find ourselves in a beyond fortunate financial position (thanks to inheritance from Grandparents) that means we use significant amounts of childcare, someone does the ironing for us, we frequently get meals prepared for us and my blow dry habit shows no sign of waning. We've even recently had a two week holiday, for crying out loud! What's fuelling this anxious intensity I'm not quite sure. It's possibly such a full head, feeling pretty alone when it comes to running the household, always thinking of the next thing to go in nursery bags, collection envelopes, not being able to live with a 'posh lounge' rammed full with unpacked cases one week on from landing home. Pointlessly logging grocery spends to avoid going over budget when nothing is more inevitable in the calendar. Every waking moment feels like an intense squash match and I'm the ball being battered from one wall to the next. Sleep is rarely restful.
The answer to getting on top of the overwhelm I know lies in more frequent blocks of peace, quiet and minimal rushing around but how to achieve that I'm not yet sure… Because I am greedy and I want to do things like gym classes. bikini waxes and catch up with friends when any child free opportunity presents itself. I will be eternally guilty of filling nearly every waking moment yet long to live a life of 0 not 3 diary commitments a day. Going to bed at 9pm is so, so beneficial for me but that involves eating a rushed supper with the children, not sitting down with my husband at the end of the day or catching up with any of the messages exchanged between friends earlier. I'm not sure where best to make the sacrifices.
Warmer weather and brighter days nearly always help but the windows have sometimes been rapidly closed. I remember the gammon joint in the pressure cooker from weekend dinners of my own childhood. Sometimes it would simmer over when it could take no more. And it's with that eruption or bubbling over I've attempted to save myself a call from social services by rapidly shutting those windows. I am sick to death of shouting. But some days it simply can't be helped. It's the reflex reaction of being pushed and pushed and pushed until I can take no more slaps to the face, sunglasses being lobbed across the park and new levels of optimum dickhead status being achieved. Some might argue, by us both…
But that unfortunately is a lot of what being three and not far off turning four is about. It's also about the intensity of the juggle, of two babies, a lap to share but hardly the time for a backside to scrape the sofa. I went back to our truly wonderful counsellor just recently who has already, in just a week, helped me better see the wood for the trees. "She sounds amazing" oh that she is… She kills me laughing with role play that mimics my exact behaviour (for better and worse), she adores her sister, leaves me 900 character emoji notes on my iPhone and is so strategically calculating she is going to bring down that glass ceiling once and for all. For every struggle I post here Ffion Megan, you will, as ever, be my biggest challenge and greatest accomplishment all at once. We will have to navigate this path we have never before travelled along together for the rest of our lives. I hope you're as grateful for my teachings as I am yours. I will never forget the tiny tear that couldn't be held back and trickled down Granny's face the morning after my own Mother[ship] died. We are meant to be in this together, forever.
For every smile my littlest bathroom baby has learnt to flash she too has done a pretty cracking job of sending my anxiety levels through the roof. I'm ready to run courses for anyone that thinks formula feeding is the easy way out when it's brought with it feed refusing, percentile dropping and sparrow like amounts consumed some days. Bottle, breast; fed is best, for sure – but if they're not feeding you're hard wired as the one that carried them to be left over obsessing, wringing your hands and generally dreading each beep of the Perfect Prep because all you want to do is FEED YOUR F*CKING BABY. But now we are weaning and she is super keen. And just like that we've reached that half way through the first year mark. She is physically strong, unnerved by most things, quick to kick her little legs to make something move and, quite frankly, adorable. I know, I know, they all are but… this one… There have been coughs, colds and remortgage inducing Calpol plug-ins once more. The path well travelled is so much less terrifying but in a way all the more exhausting. Double the fun, they promised me…
But I've kept promises to myself and in amidst sometimes feeling I can't go on, I can't neglect not so humble brags about 1k on the treadmill without leaking, good times at Spice Girls, some zig-a-zig-aaaaaaah of a pretty decent standard in between and somehow managing to keep the entire ship afloat. I am beyond grateful, perpetually strung out, safe in the knowledge that somewhere along the line it does start to feel a bit easier (when I go back to work…?) and I haven't once, not once gone to bed at night wishing it were just the three of us again.