The blow of having to be in London on a weekend to sit a bio-chemistry exam was cushioned by my first visit to CrossFit Hackney. Last Friday night I shut the revision books, stuck two fingers up to oxidative phosphorylation and the Bohr (bore…?) Effect and headed East to London's hottest new workout ticket in town.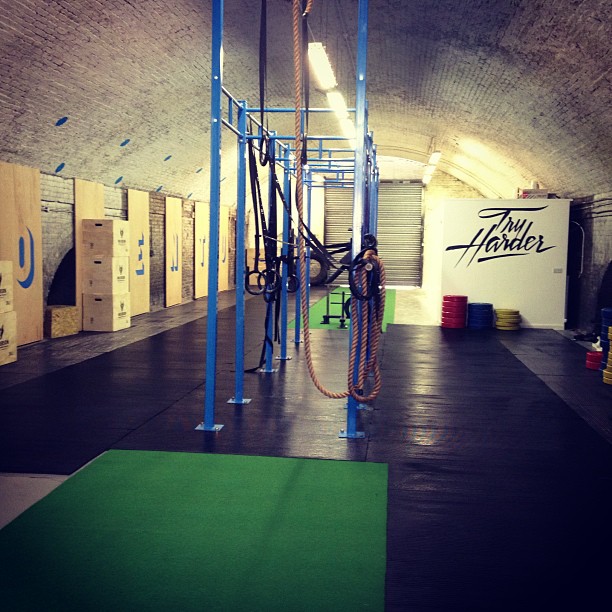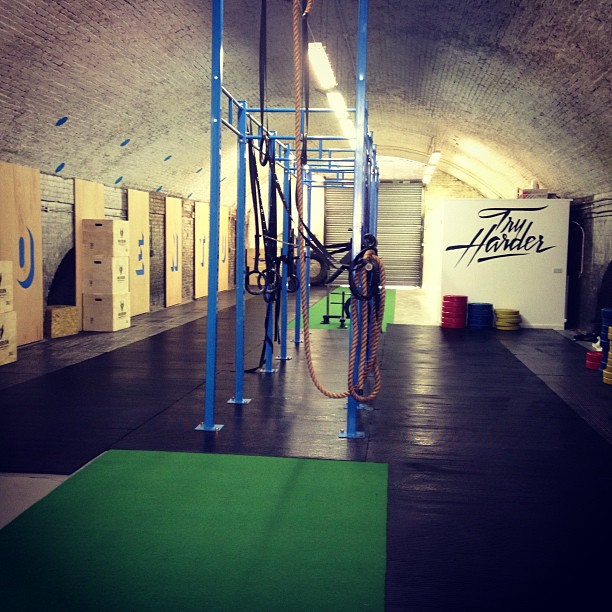 CrossFit Hackney sits under the Momentum Training umbrella in a railway arch in East London. Momentum Training was founded by three incredible guys who I had the pleasure of learning from, sweating alongside and most importantly laughing with during the time I lived in London. A little bit of Geoff, Josh & StreTch oozes from every corner of this uber cool new space.
The devil's always in the detail and there are so many wicked touches about the place. The bright blue wall ball dots (no excuses for missing those…), the 'Try Harder' that smacks you in the face when you think you haven't got that final rep in you, the beautifully aligned M-O-M-E-N-T-U-M handstand boards.
No 'tums' round here…Just killer abs to be made!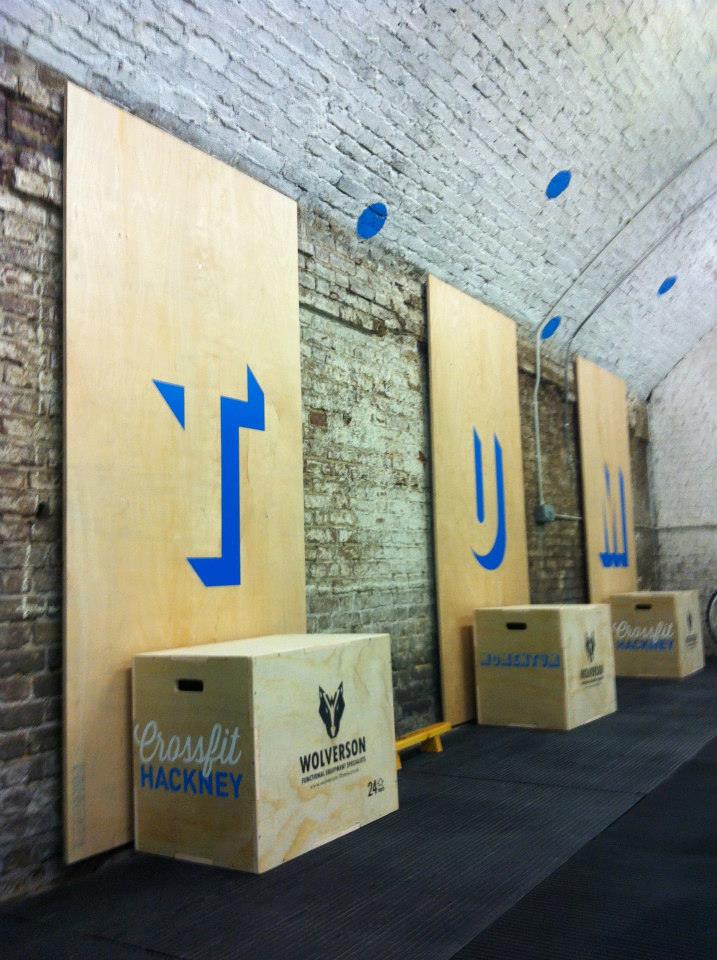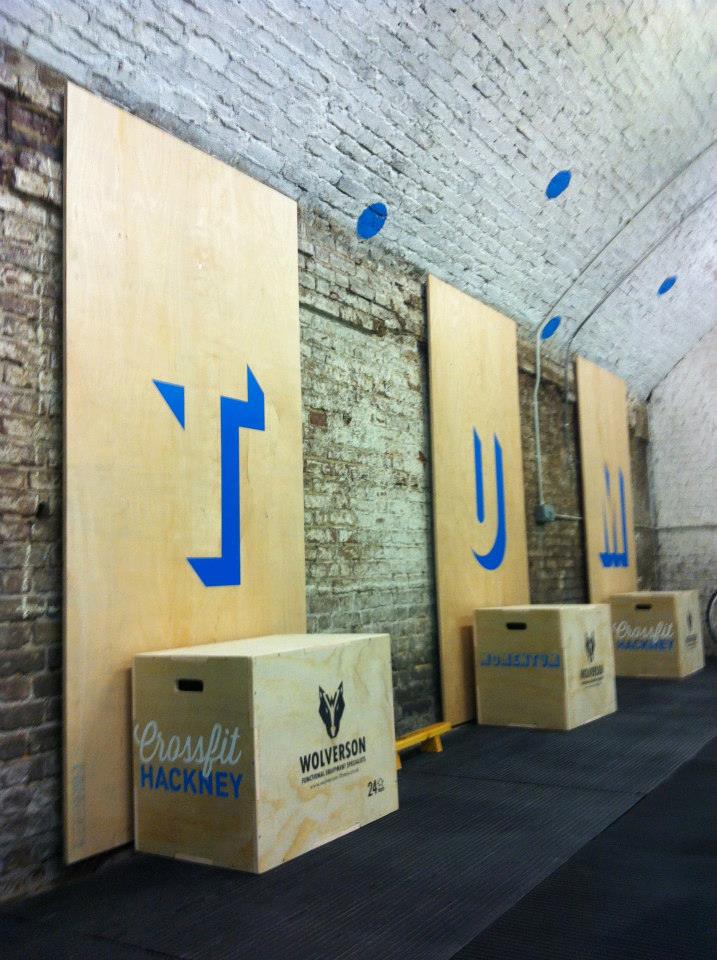 The first thing you'll notice on arriving at CrossFit Hackney is how genuinely pleased Josh & StreTch are to see you (it was Geoff's night off when I visited). Every single person that comes through the door is welcomed with a beaming smile. For a gym that's been open just a matter of weeks already these guys know their members. I was introduced to 'Celine the Machine' for example, who was promised to be my nemesis for the session ahead. Celine lived up to expectations…
For a brand new gym it's seriously well stocked. Excellent, you'd think… Until part of the work out involves carrying every single weight plate to the opposite end of the gym, depositing it, completing 5 burpees and returning for more. And don't even get me started on the bit where we had to put it all back again…
CrossFit Hackney 'toys' during the build stages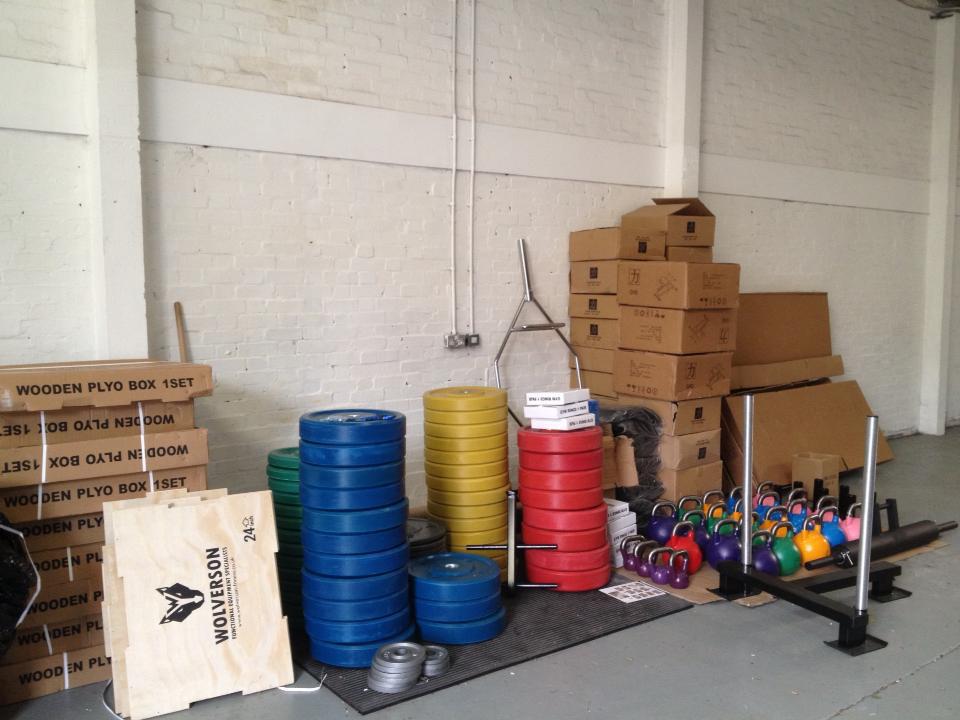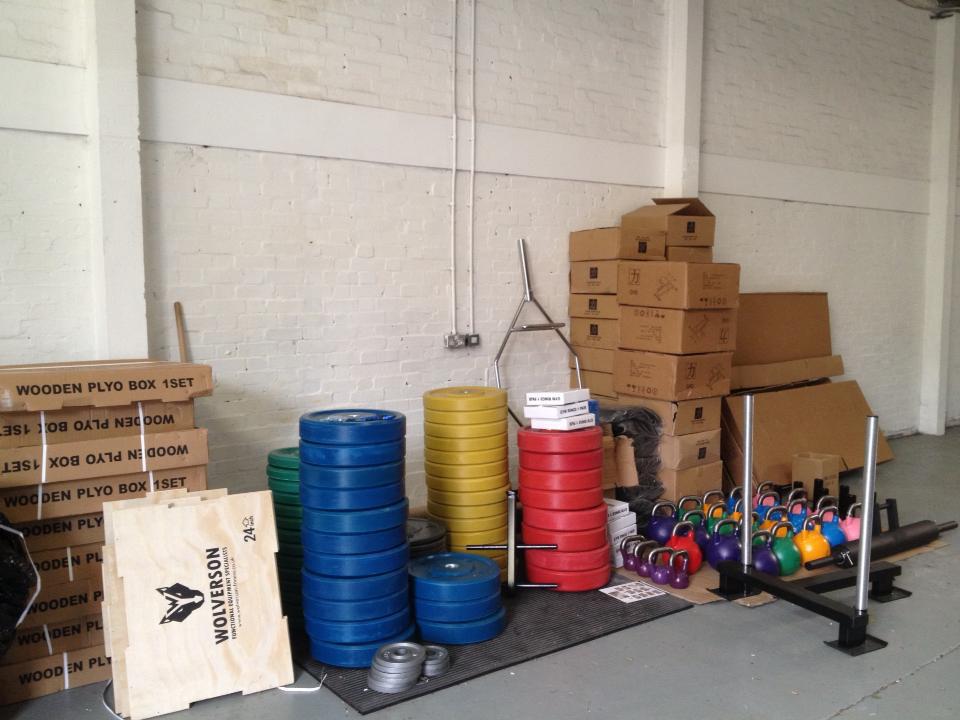 There are no frills. There is no formality. It's just all about getting the best out of everyone. Work outs are posted online the morning of that day. Careful thought and consideration has clearly gone into this programming – again tying back to Momentum Training's determination to give nothing but the best to help members get on their way to becoming fitter, faster, stronger and leaner.
East Londoners are seriously lucky to have a space like this in the neighbourhood. CrossFit Hackney isn't exactly 'on the way' to anywhere unless your home or work post code falls in the same borough but it's ideally located right opposite Haggerston overground station and is well worth making a detour to. I made the trip from my sister's place in Wimbledon and wouldn't think twice about doing it again. And again. And again.
Even after a gruesome work out I still seem to have so much love for Coach Josh!
The community at CrossFit counts for everything and I can see Arch 328 on Stean Street will be growing an awesome one.
I'll be back at CrossFit Hackney for this Paleo seminar next month and would love to see you there too.
Drop in, go say "Hi" I know these guys will offer you the best kind of sweaty welcome.