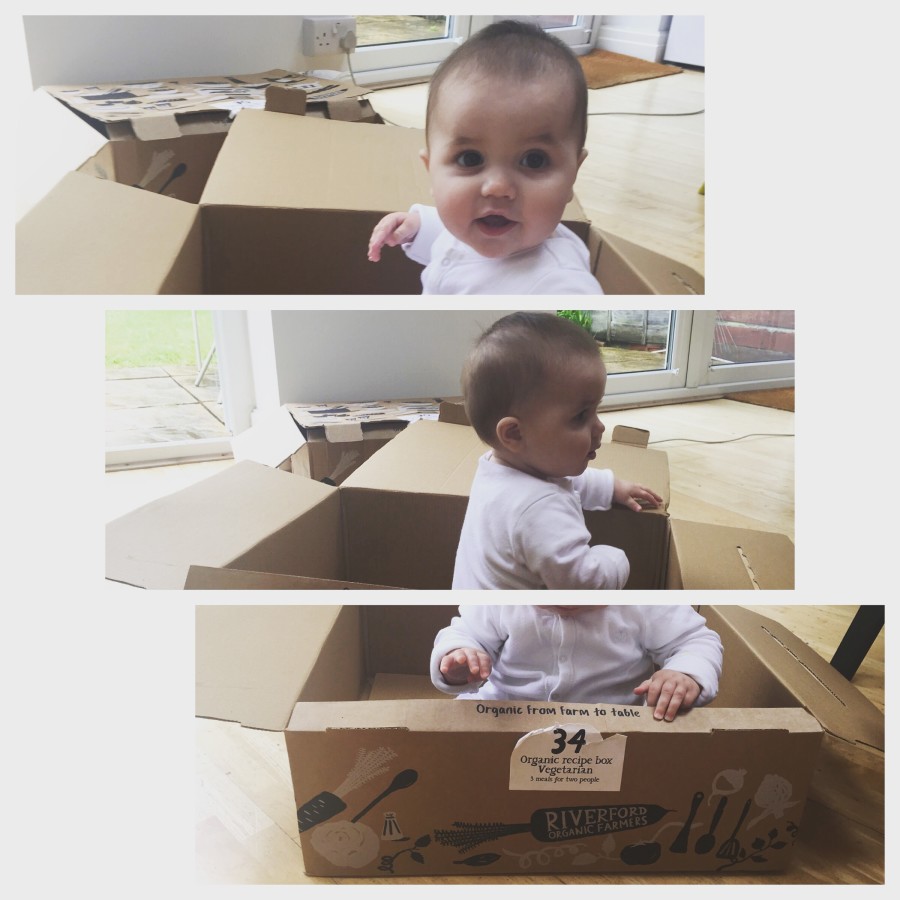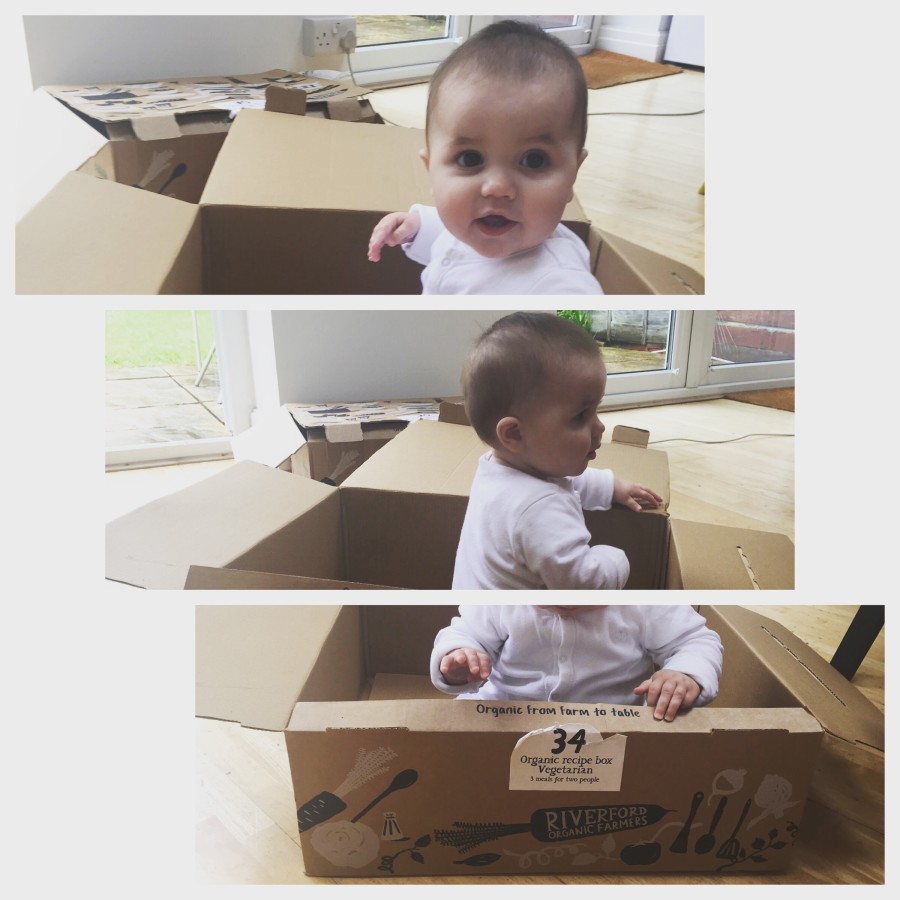 I love delicious home cooked food and I love to cook – which is probably just as well given the former doesn't come overly easily without the latter. Amidst the chaos of the early newborn weeks and attempting to get to grips with breastfeeding I spent no time in the kitchen and, despite his best efforts with Dad's Dinners, we reverted so often to pre-prepared foods for what felt like far too long. Thankfully nowadays you can get your hands on some pretty favourable 'ready made' options but I genuinely believe there's no nutritional substitute for cooking from scratch.
Nine months on and we've got a far better handle on things as a family. As a general rule Dada walks through the door by 6.10pm and then it's over to me to start rustling up the dinner. It rarely feels like a hardship as I enjoy cooking so much and it's a little bit of independence away from looking out for the small person. I'm pretty confident at concocting dishes from all manner of fridge and store cupboard staples but I am a terrible grocery shopper, a dreadful meal planner and I do tend to rotate around a rather limited, easy repertoire. I always fulfil the list of things we actually need but even with online shopping I'm so easily tempted by expensive extras (Waitrose 1 range anyone?). And they don't have to be expensive extras to tempt me – we all know about that vortex that is the Lidl 'middle bit'…
With just the one regular monthly income now, I feel it's my responsibility to make our 'food kitty' work that bit harder for us; give more thought to dinner times and less slack for sourdough! For the past three weeks we've been giving Riverford Recipe Boxes a go.
First impressions
Most of us know Riverford as the organic fruit and veg box people but they do so much more these days – meat, dairy, drinks, a lovely little 'farm shop' and a seasonal BBQ section, along with the recipe boxes, of course. Packaging (even the recipe cards themselves) is as sustainable as you'd expect, our local delivery team is not only perfectly punctual but open to instructions of 'please hide under hedge' and only too happy to take back last week's packaging for recycling. It's also pretty fab that Riverford doesn't air freight. The only thing I did feel was a little wasteful was where four eggs are used across two of the three recipes, for example, they came separately packaged in two boxes of two which felt a bit unnecessary. The ingredients for the week's recipes are perfectly curated and removed from the box and straight into the fridge in a flash – if you don't loiter, inhaling the aromas of truly terrific tomatoes or heady basil along the way.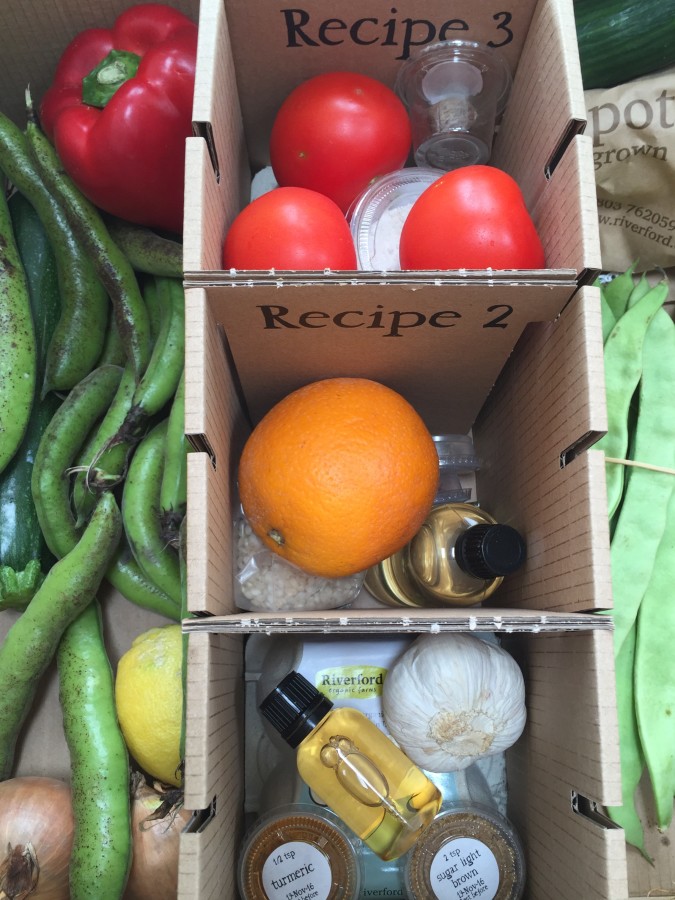 Prep times
It wasn't until our third and final delivery that I realised there is a 'quick' box which I was pretty relieved about. Our first two boxes were the 'original' and 'vegetarian', both of which I felt had pretty hefty prep times compared with competitor recipe box offerings we've tried. Generally it was at least 45 minutes of prep + cooking time per meal. Perhaps that may not be the case for everyone and my knife skills sure as heck need sharpening but still… I also know that the more 'straight from the ground' appearance of veggies, that in turn require far more prep than 'polished' supermarket varieties, put my husband off immediately. For someone who had told me he was going to take over the cooking during the box scheme weeks I only saw that happen once and a 'quick' Asian salad had a two and a bit hour turnaround time and involved lots of swearing and sweating. Unlike a lot of competitor offerings there is also an expectation that you have a well stocked kitchen drawer – for rolling pins and pastry brushes, for example.
Unrivalled flavours
If budget and availability were no issue we'd always buy everything organic but currently, we don't. But when you do, you really know about it. The smells… Those smells. For the 'Summer Ham Hock Hash' I did all the chopping prep before jumping in the shower one mid Sunday morning. As I walked back down the stairs, a fair distance from the kitchen, the wonderful smells of summer greens, wet garlic and dill wafted up from the chopping board and down the hallway. And the Kalamata olives. I tried one before putting the rest into the One Pot Basque Chicken. So seductively salty with an unrivalled perfect squidginess. Not as many as should have, made their way into the Caponata the following week… We equally enjoyed these awesome pollock tacos.
The recipes themselves
Prep times aside, I absolutely loved the recipes in all the boxes we tried. The dishes were without doubt things I'd make again, especially at weekends with more time on my side. The recipe boxes forced me to do new things (cucumber pickles) that were not only delicious but pretty straightforward to create.
Likewise, twists on staples like vegetarian lasagne made with spinach and curd cheese when we'd usually just roast a ton of veggies and throw in a tin of chopped tomatoes. I also loved that 'grain' didn't dominate as the carbohydrate addition and we had everything from quinoa to Paella rice and nutty new potatoes.
Value for money
For us, price is nearly always the sticking point when it comes to signing up to recipe boxes on a longer term, more regular basis. But the portion sizes of the Riverford boxes were hefty which meant we got at least two dinners and a packed lunch out of most dishes and far more from the Spinach & Basil lasagne verdi (four portions, from what I remember). The vegetarian dishes went furthest and could have catered for two adults and two small children easily which would make cost per head under £3 per, completely organic, meal. There was absolutely no waste, I had everything to hand to cook from scratch without any of the all too common mad dashes to the shop as bath time is happening. Where Riverford has included a larger pot of something than is actually needed, they're so committed to minimising waste, that the recipe cards even have little ideas of what to do with the leftovers.
Have you given recipe boxes a go? Do you think they could work for you?
**We were very kindly sent The 'Original', 'Vegetarian' and 'Quick' recipe boxes for two people by Riverford in exchange for this review**