At college, we're coming to the end of this term's module that focused on Pollution & Detoxification – ultimately a look at all the nasties going into our body that need to be processed back out again.
One of the earlier lectures looked at what toxins we may be exposed to in the home and how we can look to reduce this exposure to ourselves. I must confess I've previously rolled my eyes at this stuff. It's all seemed a bit much. I make choices relating to my nutrition and health that feel right for me. Whilst plenty of things keep me awake at night I can't get on board with over-obsessing – that would kill me far sooner and I'd probably never go out!
Since being pregnant (24 weeks tomorrow – it's flying, I'm growing!) things have changed a bit. All of a sudden you're not only responsible to yourself but the development of someone else. The skin is a massive detoxification organ – both absorbing and releasing toxins. As I started to lather up in the shower in the earlier stages of pregnancy I did suddenly think a bit more about the chemical make up of the soap I was using. I think so much about what goes in my mouth, so why not the same about what goes on my body?
One of the lectures looking at specific pollutants touched on the common chemicals used in cosmetics which include:
• Parabens – the most widely used preservative, also used as a fragrance ingredient
• Sodium laureth sulfate – used as a detergent and also to make products bubble and foam
• Parfum – the term fragrance or parfum on a cosmetics ingredients list usually represents a complex mixture of dozens of chemicals
• Triclosan – mainly used in antipersperants, deodrants, cleansers and hand sanitisers as an anti-bac agent
I've had a bit of an overhaul of the bathroom cabinet to incorporate some new, kinder cosmetics into my daily routine and here's my pick of the bunch: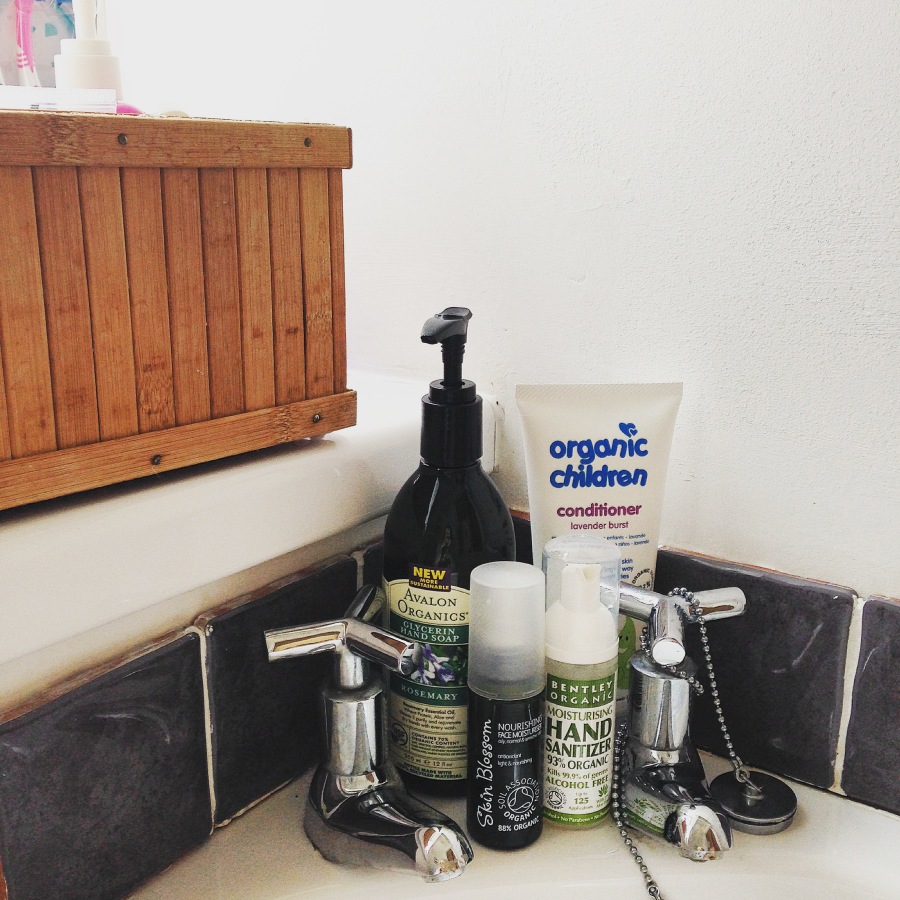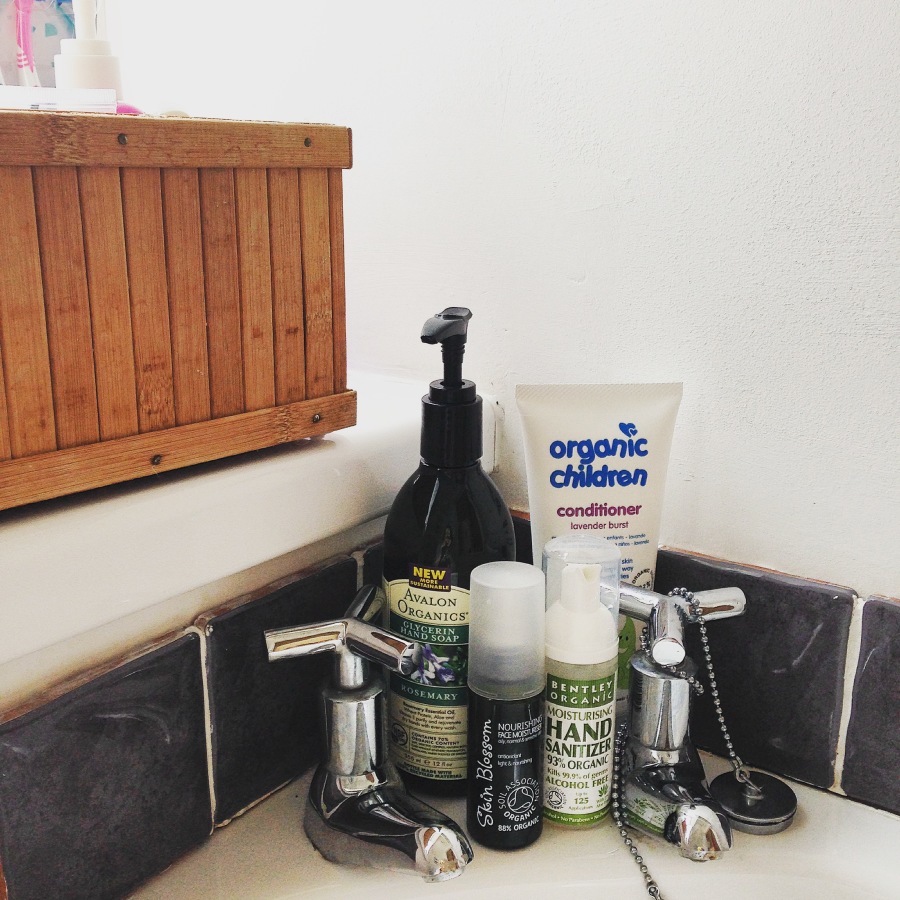 AVALON rosemary hand soap: I love rosemary; usually with chicken! It reminds me of my parents' garden and my Mum snipping off sprigs for the Sunday roast. But rosemary in a soap is beautiful. This has a really subtle fragrance and does a lovely job of cleaning hands without feeling abrasive. I first used AVALON soap in the bathroom at Poco. If you're in Bristol, you definitely need to eat there.
Skin Blossom range: I've been using the face moisturiser and bath soak and love both equally. The moisturiser has been such a first thing in the morning treat. The smell is wonderfully heady, it's really refreshing to the skin and gives a perky kind of firmness to the face once it's soaked in. Better suited to morning than night (save the bath soak for then), this is easily my favourite of all the products I've tried.
Bentley Organic Hand Sanitiser: I've never been much of a clean freak but during pregnancy I've been desperate to avoid picking up any bugs that are transferred so easily on door handles and pretty much everywhere else – especially given I find myself increasingly frequenting public conveniences without soap or working taps! This is a perfect 'in your handbag' or coat pocket option that's ideal for a quick clean up as and when necessary.
Organic Children lavender conditioner: I got our visiting three year old niece to help me review this one. It got a big thumbs up from both Alice and her Mummy. Alice confirmed it's just like Grandma Pig's shampoo (if you're a Peppa Pig fan…) and Mummy was equally delighted with not having to wrestle with any tangles post hair wash. Children's products are a brilliant way to easily opt for chemical free choices as they generally tend to be that much kinder – especially when organic. Safe to say I'll be dipping into whatever our baby is bathing in once he or she comes along.
Where do you stand on the cosmetics you use? Is it something you actively think about?
**Special thanks to Ocado for sending me each of these products for review. You can check out the full range of organic toiletries here**