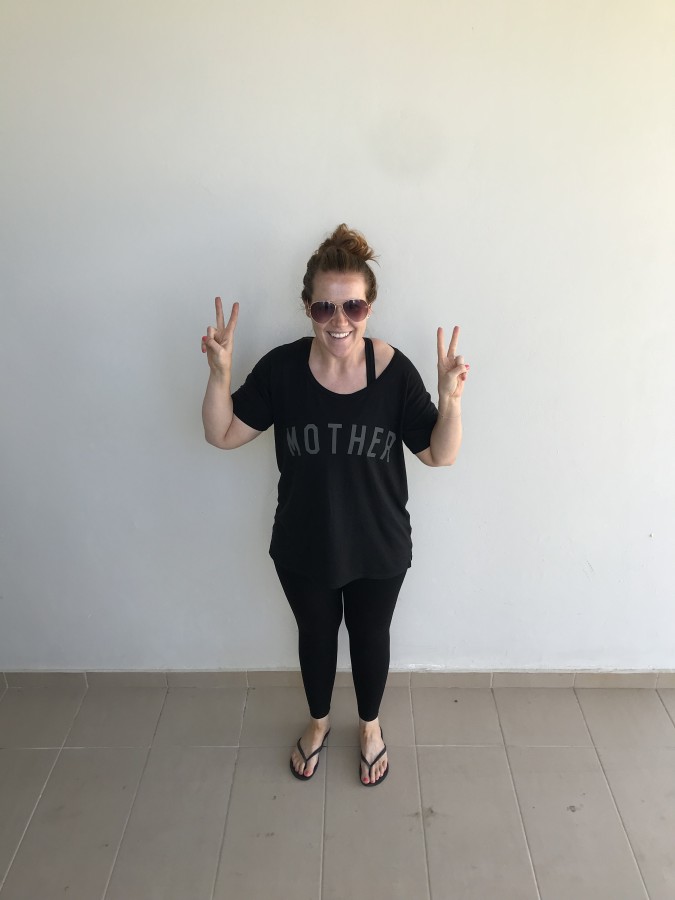 I've worn and loved Molly's t-shirts and sweatshirts for more than three years now. To be honest, I was initially a bit of a crowd follower, wanted one because I thought that was what new Mamas did. But then I learnt more about Molly's business, what she and her garms stand for and I've since gone on to buy too many as a result.Beyond the significant donations to charity, Selfish Mother's business is a huge nod to what Mamas like me need to parent the best way they possibly can.
And so here we are. Today is my youngest daughter's first day at nursery at one day shy of four months old and I am going to the gym. And that will be the case for the next however many weeks until I go back to work.
When your family set up reads 'dead Mother, estranged Father and in laws 130 miles away with twice weekly childcare commitments for other family members' it's hard not to feel a bit sorry for yourself when you desperately need an hour here and there to do what you want to do.
I mean I could take my baby to a scale and polish but when you're terrified of the instruments as it is, no amount of screaming, refluxy baby in the corner is going to drown out any of the terror and fear. Sorting wardrobes at weekends is also no fun for anyone, least of all my husband who barely gets a slice of my time as it is.
And so it goes on. But it's taken a long while to get to this point of feeling comfortable with the childcare support choices I need to make for me, in order to be the best Mama I possibly can be.
I'm flying after a damn good workout. My patience is off the scale. I feel nourished and whole and ready for any / most things. But I was crippled by much 'it's so selfish of me to want to leave my baby' as a first time parent.
I desperately longed and felt I needed to be the Mama that never put their baby down, spent every waking and sleeping minute with them and was rivalling a CBeebies presenter in the entertainment stakes.
But finally I've come to accept I can't and never will be that Mama. And I've found a tribe of Mamas that accept that too. I've forged close and supportive friendships with those not necessarily just like me but those who are totally ok with who I am.
I've worked hard myself as a parent to forever chant "good for them, not for me" when it comes to other Mamas' and Dadas' decisions. I hope others do the same for me too.
So I guess this post is a hug from me to you, especially as a first time parent, if you find yourself grappling with who you feel you should be versus who you really want to be as a parent. You will find the confidence to make your own way in time and you'll have a band of wonderful women beating the drum behind you.
If you're in Cardiff, tonight I'm starting Laura's Daisy Mama class https://thedaisyfoundation.com/product/daisy-mama-cardiff/
Laura and I are so same, same but different all at once and she is one of those women that I know will be beating the drum behind me. I wish I'd found Laura sooner. She runs classes with zero judgement and oceans of support. A truly wonderful human being who I still hold entirely responsible for helping me to have a baby in our bathroom!