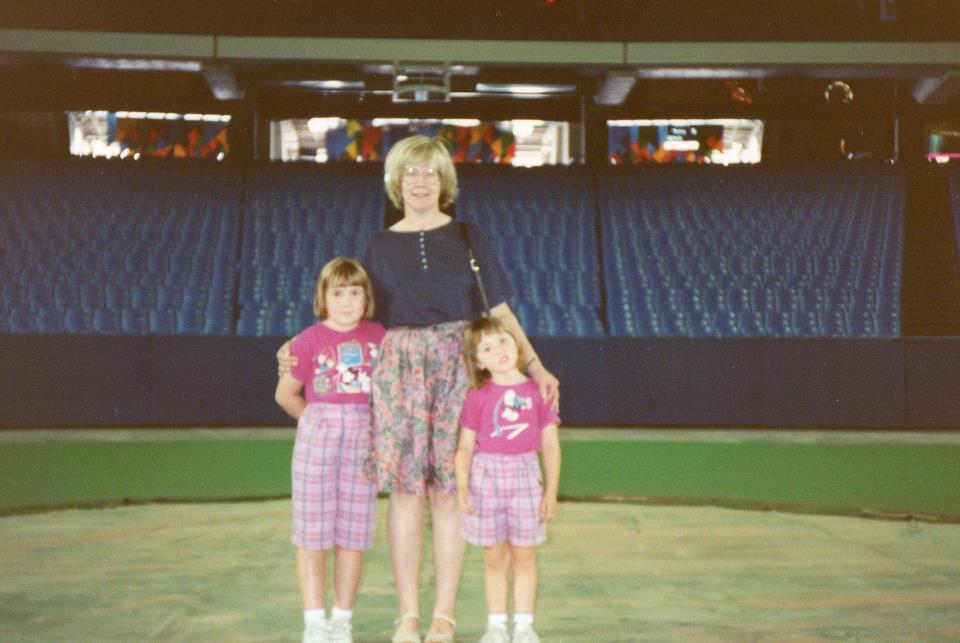 Losing my Mum to cancer was pretty horrific. Not least of all because it seems totally unfair that someone you've adored and admired your whole life is cruelly taken away from you.
My Mum's cancer diagnosis changed everything. It's one of the reasons this blog was born, it's responsible for my determination to better the lives of others via their nutrition and well being and the last two years of my Mum's life brought so much of my own life into perspective.
Here's the eulogy I gave at her Memorial Service today. Standing in front of near 200 people to deliver this was possibly one of the hardest things I have done to date but I totally owed it to Fi and I'm so glad I did. We learn so much from finding the guts to step outside our comfort zone, time and time again.
Most of what Mum taught Sarah and me, she did without having to say a word. Mum led by the most incredible example right up to the very end. Never has this been truer than over the past two years, since her pancreatic cancer diagnosis. Cancer was never allowed to take centre-stage in the Walters family. Mum believed firmly in "business as usual" – so much so that within hours of her telling me and Sarah about the diagnosis, she had packed us off to the Millennium Stadium to ensure we didn't miss the all important Wales-England Six Nations clash. Obviously, with Mum being the only English rose in our household this was a much-anticipated fixture, tournament after tournament.
The next morning we were off. With Mum grinning from ear to ear at the kitchen table following England's victory, operation "Live Every Day Like It's Your Last" began. The end of each chemo cycle was marked with a celebration of some kind – usually one involving good food, shopping and / or a spa! These milestones kept us all going. Never did we dwell on "gee, this chemo is grim isn't it?" instead, we'd gather round at home, gearing up for the little celebration that had been booked to mark the end of it. The first of these celebrations came on Good Friday in 2011, with lunch at The Crown at Whitebrook – a tasting menu all round. Mum's "business as usual" approach came into its own that day…
Suffering from a stomach bug following a recent trip overseas, poor Andy started to struggle after the first of seven courses. No problem for Mum's "the show must go on" ethos. From her beautiful new Mulberry handbag, Dr Hawkins produced a far less glamorous packet of Imodium, with the 'medical' guidance to take as many as he needed and visit the loo as often as necessary so that he could enjoy the celebrations and fill up on all that good food. 
Andy always had a special place in Mum's heart. I remember when she first met him she took me aside to let me know he'd got her thumbs up by declaring "he's rather dishy, isn't he?" Not surprisingly, Mum seemed equally as delighted when Andy proposed in May 2011. She was, however, determined that if she'd be signing the cheques, she'd be making darn sure that she made it to the big day. And that she did! Mum spent the majority of December the 10th on the dancefloor and, in between, made a special effort to meet all our friends, more concerned by who was going to cop off with whom before the end of the night than she was with sharing any tales of woe associated with her condition.
Fun times continued, with London at the heart of a fair bit of what we did together. I still feel for the poor soul sat next to Mum during the Wizard of Oz at the Palladium given the amount of squealing she did each time Toto came on stage. The baths of top London hotels were tested frequently and, just to let you all in on it,  The Savoy's tub was declared the outright winner.
 Out of town there was a girly trip to explore the Cotswolds and evenings spent at a spa hotel looking ahead to the future whilst sipping Amarettos on ice, in front of the autumnal fire.
 Certain parts of 2012 got a bit hairy, with Mum having to make the occasional and less pleasant trip to hospital. But this was always made slightly more bearable and humorous by Mum's insistence on:
1. Having a Cath Kidston wash bag for said stays
2. Press-ganging my usually law abiding Dad to smuggle meals and treats onto the ward, and
3. Mum taking great delight in teaching some of the more junior doctors more about pancreatic cancer than their studies ever could.
The end of someone's life is always going to be difficult, but Sarah and I are particularly keen to emphasise what fun we had as a family in December – a mere few weeks ago. There was a trip to the Celtic Manor to celebrate mine and Andy's wedding anniversary, where Mum had to be dissuaded from hitting the ice rink through fear of cause of death being anything other than her condition at that time… And so to Christmas where Mum, without doubt, had the most fun of us all. With yet more of those key milestones in her mind, she had equipped herself with a new John Lewis outfit for each of the festivities ahead. The floral top for Christmas Eve, the Liberty blouse for Christmas day, the list went on. We, as her children, were woken by her excitable laughter with the night sitter on Christmas morning. It had been the other way round for so many years!
Fuelled by Coca-Cola and Pannacotta, Mum somehow managed to beat me at cards not once, but twice; and boy did she let me know about it. Doctors and nurses couldn't quite believe what they were seeing as Mum went on trips to Blooms Garden Centre, Cardiff Bay and "the big Sainsbury's" with her morphine-administering contraption in tow. We brought the strike of midnight forward to the more favourable time of 9 o'clock on New Year's Eve and, once again, Mum led the charge in the celebrations, insisting she got her fair share of a sip of champagne.
 Coming back to where I started, these past two years Mum truly has taught us so much and I hope some of the following things will stay with you, alongside memories of Mum:
–       Don't sweat the small stuff, always keep an eye on the bigger picture. Put a stake in the ground, attack all life throws at you. Don't moan; it wastes valuable time and energy that can be put towards having so much more fun in other ways
–       Be grateful. Grateful for your little lot – and make the most of it. Be grateful for those around you. Say thank you, people love it – it makes them want to help you even more
–       And finally, your health truly is your wealth. Do all you can to look after it and make the most of it. Laugh, a lot, you look so much better when you're smiling.