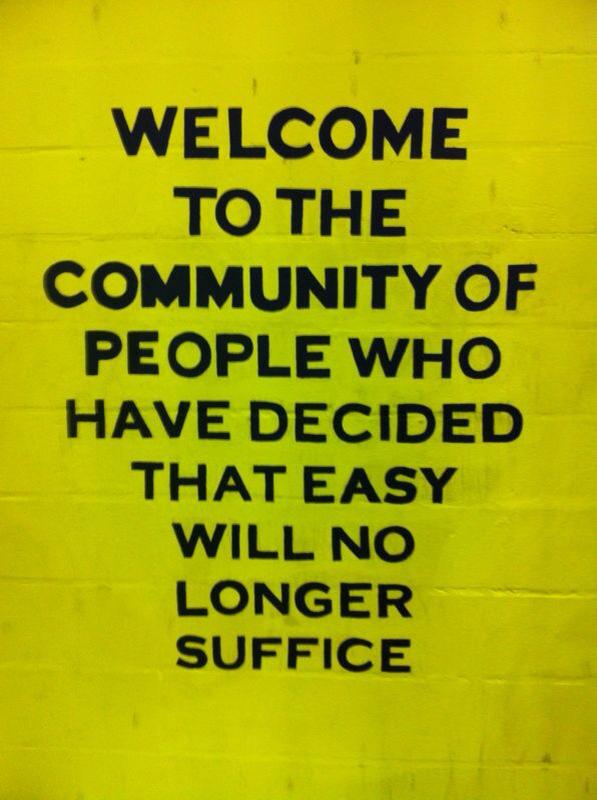 CrossFit gets a really (unfair) bad rap for all sorts of things. Its most frequent criticism is being branded a 'cult'.
Regardless, I'm all for a 'cult' that offers support, compassion and the most unrivalled sense of community I've ever come across. We weren't even this tight in the Brownies for crying out loud!
Because we're (rightfully) branded pretty obsessive – read, dedicated – the majority of CrossFitters train 6 days a week, at least an hour at a time. Not accounting for socials and any extra training that's thrown into the mix, that's 312 hours a year in one another's company; a lot of time to get to know what ultimately begins as a bunch of sweaty strangers.
An awesome bi-product of CrossFit is the phenomenal lifestyle changes it brings with it, namely Paleo. Paleo people are happy people. They're healthy, upbeat, energised and not plagued by the woe of a daily grind that can drag you down. Just another reason why being part of the 'cult' feels great.
CrossFitters whoop and cheer for the last man standing, CrossFitters celebrate the birth of fellow members' children with ridiculous hero WODs, CrossFitters load up their partners' bars to push them to achieve bigger and better things. CrossFitters go through a lot together.
There's no secret knock for entry, there's no chant on arrival, just a very warm welcome. I encourage you to give the 'cult' a go.
I can guarantee you a warm welcome here:
CrossFit Evolving – I started life as a CrossFitter here. These guys carried me through 21 weeks of training for 3 marathons in 3 months during 2012. I didn't make the Olympics but they made me feel like a champion. They offered the biggest hugs (but still made me do burpees) following my Mum's death in 2013.
Celtic CrossFit – WODs like no other, this box has such a special place in my hometown heart. I dropped in and out at weekends, I always felt like part of the furniture within minutes. Someone once called me 'Sharon' but that's about as offensive as they get. Ripped blokes are also prone to taking their shirts off on a regular basis, irrespective of the South Wales weather report.
CrossFit Cayman – Few things compare to WODs in the Caribbean sunshine. Visitors are definitely made to feel like celebrities – despite the real celebs being the box owners who are CrossFit LATAM regional champs. These folks mean business. You'll learn a lot.
Be sure to keep your eyes peeled for the new kids on the block at CrossFit Hackney